Today's students will enter a world of untold possibility and potential. Not only must they master digital skills to thrive in the future, but they also need the confidence to navigate the unknown and respond to frequent change.
Based on the LEGO brick and carefully designed lesson plans, LEGO Education offers hands-on, playful, and educational STEAM experiences for students in early learning, primary, and secondary education as well as afterschool programs and competitions.
Studies show that hands-on learning is the best way educators can develop their students' confidence – and LEGO Education's comprehensive cross-curricular solutions are designed to do just that.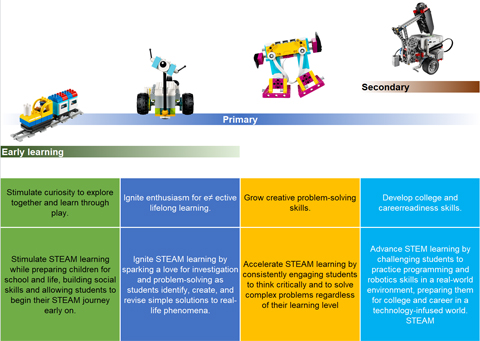 STEAM Learning Develops Crucial 21st Century Skills
LEGO Education gives you everything you need to implement an innovative and effective approach to STEAM learning, from early learning through secondary education, to make students succeed in the future.
Hands-On Learning - Learning-by-doing is the best way to practice and acquire skills, and you will find that the hands-on learning solutions brings high engagement and outcome for all students
Project-Based Learning - All LEGO Education learning solutions are project-based, and designed to help students develop excellent social skills that will help them succeed in their future workplaces.
Cross-Curricular Benefits - Our STEAM learning solutions have clear cross-subject benefits, which also demonstrate a positive impact on literacy and math
Full Teacher Support -LEGO Education backs educators with standard-aligned lesson plans and professional development courses designed to provide the competencies and confidence necessary to effectively use our materials in a classroom setting.
Building Confidence
Confidence is believing in your ability to do your best to accomplish something. It's being comfortable with trying something you've never done before.
Confidence is being willing to explore and take risks. It's the ability to try something new without being fully aware of the outcome, to embrace the process of learning.
Confidence is knowing that failure is a part of learning. It's being willing to get out there and try, putting ideas on the line, believing in yourself, and knowing that you're capable of achieving your goals.
Lessons and Alignment
LEGO Education's preschool, primary and secondary programmes make it easy for teachers to achieve STEAM learning in their classrooms with curriculum-aligned lesson plans that ensure strong learning outcomes. Our programmes:
Allow pupils to explore STEAM concepts, building their confidence year after year
Are designed around standard clusters, which integrate literacy, maths, science, engineering and computer science
Provide enquiry-based, hands-on experiences to develop a deep understanding of the content, while leaving room for creativity
Professional Development Courses Designed to Build Teachers' Skills and Confidence
LEGO Education offers courses to support teachers in delivering effective classroom experiences and success to their pupils.

LEGO Education Professional Development supports teachers in acquiring the competencies necessary to foster their pupils' success and engagement by providing hands-on learning experiences in a classroom setting. A range of collaborative courses offer teachers the opportunity to learn, practise and master new skills to help them deliver effective STEAM experiences using LEGO Education solutions.

Each of the Professional Development courses is facilitated by a certified LEGO Education Academy Teacher Trainer

Every course teaches effective techniques for using LEGO Education solutions, including product training, lesson planning and tips for classroom management.
How can LEGO Education help your school?
LEGO Education is here to help every step of the way in making the STEAM journey successful for both teachers and their pupils.
We help you to deliver all the benefits of hands-on learning, giving your pupils a great start to developing 21st-century skills with:
Intuitive LEGO brick sets
STEAM lessons and activities aligned to curriculum standards
Teaching software and apps for a range of devices
Expansion sets for enhanced experiences
We support you in streamlining and integrating playful learning experiences into your existing curriculum by providing:
Embedded unit plans for instant availability
Tools and rubrics for assessing your pupils' progress
Professional development assistance, including opportunities for in-person training and training certifications
Technical support online
Our solutions are backed by a commitment to sustainability, safety and quality, including:
Active involvement in sourcing sustainable plastic, reducing CO2 emissions and targeting zero waste
Compliance with stringent safety standards
Strictest policies for safeguarding online privacy
Adherence to all national and international requirements governing play materials
A deep commitment to both product quality and ethical values