In de toekomst kunnen mensen met hun zelfgemaakte Lego-ontwerpen geld verdienen. Ten minste, als hun producten het Lego-fiat krijgen en in de schappen komen. Slechts een heel klein aantal ontwerpen zal het 'zo ver schoppen'. "Het gaat in de eerste plaats om het stimuleren van creativiteit en het betrekken van onze klanten, niet om geld verdienen," aldus Mark Hansen van Lego.
Wekelijks worden nu tussen de 5000 en 6000 Lego-ontwerpen ge-upload. Dat zei Hansen, directeur van business development van Lego. Emerce sprak met hem tijdens eDay 2006 afgelopen week in Rotterdam.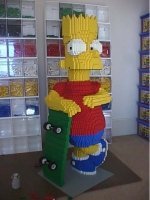 Via de site van Lego is het mogelijk om gratis software te downloaden - Lego Digital Designer - waarmee een virtueel Legomodel kan worden gebouwd. De ontwerper die zijn model gereed heeft, kan deze in een online gallery plaatsen, waar ook de ontwerpen van anderen te zien zijn. Het is mogelijk om de benodigde stenen voor een - eigen of door iemand anders ontworpen - model te bestellen.
Lego experimenteerde eerder met een verdienmodel tijdens een wedstrijd die werd gehouden als 'kick off' voor de Lego Factory, de virtuele plek waar internetters hun Lego-model kunnen bouwen, delen en kopen.
De winnaars - drie kinderen en vier volwassenen - van de 'kick off wedstrijd', de ontwerpers van een model met de meeste stemmen van andere gebruikers, konden hun eigen model later terugvinden in de winkelschappen. De ontwerpers ontvingen per verkocht doosje met daarin een door hen ontworpen model een commissie van vijf procent. Het bedrag dat de winnaars ontvingen, is volgens Hansen behoorlijk opgelopen. "De winnaars kunnen ervan leven."
Lego wil straks ontwerpers een commissie betalen voor elk door hen ontworpen item dat in de winkel wordt verkocht. Voordat het zover is, moet echter nog een probleem worden opgelost volgens Hansen. "We moeten absoluut zeker zijn dat een model is ontworpen door de persoon die dat claimt. Het kan zijn dat iemand het ontwerp van iemand anders gebruikt en alleen de kleur verandert. Dan is er niet echt sprake van een origineel model."
Op dit moment wordt 10 procent van de Lego-verkopen gerealiseerd via internet. Verkoop in fysieke winkels heeft dan ook nog steeds de overhand. Volgend jaar start Lego met de verkoop van 'co-designed' Lego-modellen in winkels, zegt Hansen. 'Co-designed' betekent dat de te verkopen modellen een samenvoeging zijn van door verschillende thuisontwerpers gemaakte modellen.
Tot nu toe zijn er volgens Hansen enkele honderdduizenden modellen ge-upload. Controle is een belangrijk onderdeel, omdat Lego wil voorkomen dat ongewenste ontwerpen op internet verschijnen. Controle vindt op een geautomatiseerde wijze plaats maar ook door Lego-medewekers. Daarnaast is de feedback van de community belangrijk.
Alleen ethisch niet gewenste modellen worden verwijderd. Elk ander model, hoe simplistisch of raar ook, krijgt volgens Hansen een plek in de gallery. Hansen: "Elk mens geeft een andere invulling aan het begrip creativiteit." Wel probeert Lego betere ontwerpen een prominentere plek te geven in de gallery.