Pirates of the Caribbean is een nieuw thema van LEGO in 2011 naar de gelijknamige Disney films. Johnny Depp keert terug in dit vierde deel en krijgt gezelschap van onder meer Penelope Cruz en Ian McShane. Ook Geoffrey Rush keert terug als Captain Barbosa. Dit geldt echter niet voor Orlando Bloom en Keira Knightley.

Pirates of the Caribbean: On Stranger Tides moet vanaf mei 2011 in de Nederlandse bioscopen te zien zijn. Ook zijn de nieuwe LEGO sets per 2 mei verkrijgbaar.

Bestelt u nu en betaalt u voor 1 mei de gehele collectie dan ontvangt u 15% korting, een GRATIS sleutelhanger en GRATIS verzenden voor uw complete order*.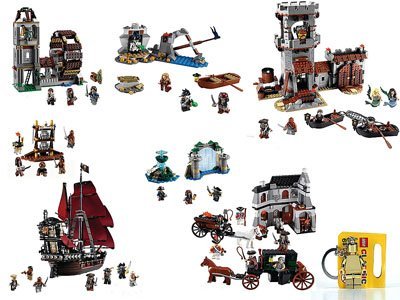 De collectie bestaat uit:
LEGO 4181 Eiland van de Dood
LEGO 4182 Kannibaal Ontsnapping
LEGO 4183 De Molen
LEGO 4191 De Hut van de Kapitein
LEGO 4192 De Fontein der Jeugd
LEGO 4193 Ontsnapping in Londen
LEGO 4194 Witkop Baai
LEGO 4195 De Wraak van Koningin Anne
LEGO Sleutelhanger Minifiguur GOUD (GRATIS!!!)
BRICKshop zorgt ervoor dat u deze nieuwe set(s) als één van de eerste in huis heeft. Bestellingen worden in volgorde van binnenkomst afgehandeld.

Klik hier om direct naar deze aanbieding te gaan.

Let op! Combineer deze artikelen niet met artikelen die u reeds eerder wilt ontvangen. Bestellingen met deze nieuwe items worden pas verstuurd zodra deze compleet uitgeleverd kunnen worden. Wilt u andere producten eerder ontvangen, maak dan meerdere bestellingen aan.
*Korting reeds in aankoopbedrag verwerkt. Deze aanbieding is geldig zolang de voorraad strekt. GRATIS verzenden geld uitsluitend voor orders binnen Nederland. Orders waarvan de betaling niet tijdig binnen is, worden geannuleerd. Betalingen dienen uiterlijk 7 dagen na plaatsen van de order te zijn voldaan doch uiterlijk 31 april 2011.