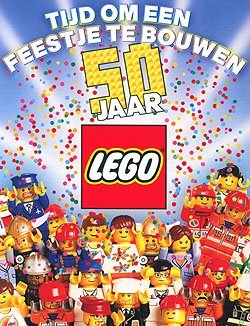 Hoeveel LEGO steentjes zouden er in Nederland in omloop zijn? Het moeten er onvoorstelbaar veel zijn! "Per jaar verkopen we er nu een miljard,'' schat Annemarie de Munnik, marketingmanager van Lego Benelux. "Negen op de tien huishoudens hebben Lego in huis: gemiddeld vijf dozen. Zelden worden ze weggegooid. Opa's en oma's bewaren het Lego op zolder voor de kleinkinderen.''
Het constructiespeelgoed uit Denemarken floreert als nooit tevoren. De winst verdriedubbelde in 2006, de omzet steeg elf procent. In Nederland verkocht Lego afgelopen half jaar 22 procent meer.  Kortom, met opgeheven hoofd kan nu het 50-jarig bestaan van Lego in Nederland worden gevierd en in 2008 de 75ste verjaardag in Denemarken.
Nog maar vier jaar geleden leek LEGO op sterven na dood. Dat kwam niet alleen door de hevige concurrentie van computerspelletjes, maar ook door wanbeleid bij LEGO. Het bracht de speelgoedgigant aan de rand van een faillissement. De multinationals Disney en Sony vlogen als aasgieren boven het familiebedrijf om de restanten over te nemen. Voor een prikkie natuurlijk. 
Toen grepen de nazaten van oprichter Ole Kirk Christiansen in. Met een lening van pakweg 100 miljoen euro bekostigde de familie een broodnodige reorganisatie, die ook de buitenwereld duidelijk moest maken: LEGO is van ons en blíjft van ons. Vier pretparken werden verkocht, het aantal personeelsleden bijna gehalveerd van 8000 tot 4500. Falende managers werden op een zijspoor gezet. ,,Wat er toen allemaal misging?''
Maurice van der Kuip, baas van LEGO Nederland, neemt geen blad voor de mond: ,,We waren te vet geworden. We leden aan grootheidswaanzin. LEGO verloor het zicht op de core business. 'We plakken er LEGO op en het wordt wel verkocht', dachten we. Laarsjes, bedlinnen, cd's, tandenborstels, tassen, kleding, van álles gingen we zelf produceren.''  Tegelijkertijd werd - ongelooflijk maar waar - het Duplo afgeschaft (grotere stenen voor kids van 2 tot 6 jaar) zonder dat er iets voor in de plaats kwam. LEGO staakte bovendien de productie van 'ouderwetse' kaskrakers als brandweerauto's, treinen, vliegtuigen en politiebureaus. Producten waar vele generaties plezier aan hadden beleefd. 
Ze werden vervangen door zogenaamd moderne, in sommige gevallen bijna onherkenbare, versies. Consumenten reageerden negatief en lieten LEGO netjes staan in de schappen.
In 2005 werd, na alweer een miljoenenverlies, een eind gemaakt aan al dit hobbyisme en keerde men terug naar de roots. Naar de steentjes dus. Van der Kuip: ,,LEGO zit nu in een tussenfase, een fase van stabilisatie. De productie wordt voor tachtig procent uitbesteed en verplaatst naar lagelonenlanden als Tsjechië en Hongarije.
Vanaf 2009 brengen we nieuwe concepten op de markt en gaan we groeien. Al doen we dat nu dus ook al.'' Educatief, creatief: zó heeft de oprichter het in 1932 bedoeld. ,,De steentjes moeten bijdragen aan de ontwikkeling van het kind, de creativiteit stimuleren, veilig en kwalitatief goed zijn.''  In 1956 konden, na de Denen, de Duitsers als eersten kennismaken met LEGO en vanaf 1957 de Nederlanders.
LEGO (in het Latijn: ik voeg samen) is nu verkrijgbaar in circa 130 landen. Het speelgoed heeft een wereldwijde reputatie opgebouwd bij opa's, oma's, ouders en kinderen; vooral jongens. Want hoewel het concern er van alles aan doet om meisjes aan LEGO te krijgen, zijn het vooral jongens van 1 tot 12 jaar die er (op een regenachtige middag) uren zoet mee kunnen zijn.  ,,LEGO is een jongensmerk,'' erkent De Munnik. ,,In 2003 kwam wel Clikits op de markt, bedoeld voor meisjes, maar dat is niet gelukt. In Nederland had het zeker bestaansrecht, maar wereldwijd niet.''  
Veel consumenten vinden LEGO overigens duur. Van der Kuip: ,,We kregen daar inderdaad klachten over. Twee jaar geleden hebben we de prijs-waardeverhouding daarom verbeterd. Voor hetzelfde bedrag krijgen mensen nu meer steentjes en onderdelen. En we hebben onze verkoop-adviesprijzen aangescherpt. Ik weet dat veertig euro voor een gezin veel geld is. We moeten er dus ook wat voor leveren. Niet alleen een politiemotor, maar een hele kazerne.''  Volgens Van der Kuip is LEGO de afgelopen drie jaar zo'n tien procent goedkoper geworden.
Zorgt de goedkopere productie in Tsjechië en Hongarije voor nog méér prijsverlagingen?  ,,Jazeker. We willen onze prijzen minimaal gelijkhouden of iets verlagen.'' Of sinterklaas daar dus kritisch op wil letten...