Product Filter
Category
Sets

(1131)

LEGO Parts

(1185)

LEGO Clothing

(1037)

LEGO Books

(236)

LEGO Bags

(53)

Extras

(636)
LEGO Theme
ART

(7)

Adidas

(1)

Architecture

(19)

Boost

(3)

Brick Sketches

(5)

Brickheadz

(34)

City

(222)

Classic

(163)

Creator

(87)

DC Batman

(206)

DC Comics Super Heroes

(23)

DOTS

(37)

DUPLO

(88)

Dimensions

(3)

Disney

(44)

Fantastic Beasts

(3)

Friends

(161)

Harry Potter

(62)

Hero Factory

(2)

Hidden Side

(13)

Ideas

(19)

Jurassic World

(59)

LEGOLAND

(5)

Legends of Chima

(1)

Lord of the Rings

(1)

Marvel Avengers

(27)

Marvel Super Heroes

(22)

Mindstorms

(24)

Minecraft

(26)

Minifigures

(37)

Minions

(6)

Monkey Kid

(13)

Nexo Knights

(1)

Ninjago

(275)

Overwatch

(4)

Power Functions

(19)

Powered UP

(15)

Powerpuff Girls

(1)

Racers

(1)

SPIKE™ Prime

(7)

Serious Play

(7)

Simpsons

(2)

Speed Champions

(38)

Star Wars

(144)

Stranger Things

(1)

Super Mario

(34)

Technic

(59)

The Batman Movie

(29)

The LEGO Movie 2

(34)

Toy Story 4

(5)

Trolls

(6)

UniKitty

(4)

Vidiyo

(17)

WeDo

(6)

xtra

(9)

Meer
Minder
Price
Under €5

(600)

Under €10

(1415)

Under €20

(2959)

Under €30

(3573)

Under €40

(3763)

Under €50

(3858)

Under €100

(4102)

Under €200

(4214)

Under €1000

(4276)

Meer
Minder
Brand
LEGO

(3055)

LEGO Education

(51)

LEGOwear

(1016)

BRICKshop

(12)

Duracell

(4)

FaBiox

(1)

GalaxyArms

(1)

Hubelino

(14)

SBRICK

(2)

Varta

(11)

LEGO IKEA

(4)

Other manufacturers

(91)

Meer
Minder
Age
from 1 years

(4)

from 1½ years

(25)

from 2 years

(82)

from 3 years

(232)

from 4 years

(1554)

from 5 years

(387)

from 6 years

(737)

from 7 years

(358)

from 8 years

(299)

from 9 years

(170)

from 10 years

(219)

from 11 years

(16)

from 12 years

(34)

from 13 years

(5)

from 14 years

(12)

from 15 years

(5)

from 16 years

(43)

from 18 years

(56)

from 21 years

(5)

Meer
Minder
Gender
Boy

(1522)

Girl

(407)

Boy/Girl

(1186)
Speciaal
Special day
Black Friday

(1)

Brith Day

(15)

Christmas

(39)

Easter

(6)

Fathers Day

(6)

Halloween

(28)

Marrige

(2)

Mothers Day

(7)

New Year

(6)

Thanksgiving

(1)

Valentine

(5)

Alle opties
Verberg opties
Discount
Discount: 90%

(2)

Discount: 80%

(17)

Discount: 75%

(2)

Discount: 70%

(7)

Discount: 60%

(2)

Discount: 51%

(1)

Discount: 50%

(72)

Discount: 40%

(10)

Discount: 33%

(15)

Discount: 30%

(37)

Discount: 25%

(95)

Discount: 20%

(292)

Discount: 15%

(299)

Discount: 10%

(38)

Alle opties
Verberg opties
Reviews
5 stars

(2225)

4 stars

(119)

3 stars

(14)

2 stars

(1)

1 stars

(1)

Alle opties
Verberg opties
Stock
Not available

(375)

In Stock

(3879)

Coming soon

(22)

Preorder

(4)

Alle opties
Verberg opties
Year
2022

(2)

2021

(1027)

2020

(863)

2019

(469)

2018

(264)

2017

(183)

2016

(115)

2015

(97)

2014

(42)

2013

(66)

2012

(60)

2011

(46)

2010

(135)

2009

(61)

2008

(48)

2007

(15)

2006

(25)

2005

(13)

2004

(45)

2003

(13)

2002

(15)

2001

(10)

2000

(26)

1999

(20)

1998

(18)

1997

(16)

1996

(21)

1995

(12)

1994

(4)

1993

(11)

1992

(11)

1991

(12)

1990

(18)

1989

(3)

1988

(9)

1987

(23)

1986

(3)

1985

(30)

1984

(19)

1983

(8)

1982

(9)

1981

(2)

1980

(44)

1979

(21)

1978

(41)

1977

(39)

1976

(23)

1973

(14)

1972

(26)

1971

(3)

1970

(9)

1967

(4)

1966

(1)

1965

(14)

1964

(8)

1962

(63)

1961

(7)

1959

(35)

1958

(4)

1957

(3)

1956

(3)

1954

(20)

Alle opties
Verberg opties

Wednesday, 28 April 2021 10:20 |

Last Updated on Wednesday, 28 April 2021 09:22 |

Written by Liesbeth de Goeij
De vlag hangt uit, de schappen zijn weer gevuld met heel veel nieuwe LEGO ... we gaan weer open!
Dit betekent ook dat u via de webwinkel weer voor het afhalen van uw LEGO en/of DUPLO bestelling kunt kiezen.
Vanzelfsprekend blijven de regels opgesteld door RIVM ook in onze winkel van kracht. Laten we met elkaar zorgen dat we ook open mogen blijven en houd dus ook in onze winkel afstand, desinfecteer je handen, raak alleen het product aan dat u wenst, volg altijd instructies van ons personeel op en bij klachten kom dan niet!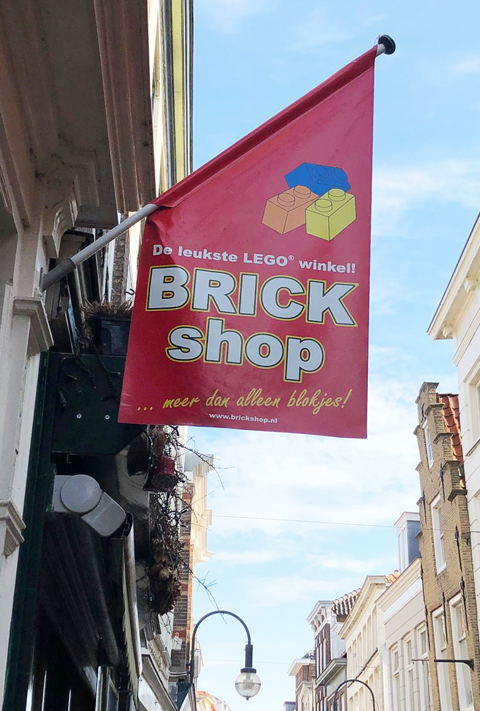 Mega assortment


Wrapped with care


Quick shipment


Free products


Super Deals


Safe & Reliable


Click & Collect
Service and processing was smooth. Set was packages well. Very good. As usual I should say.
Took a long time to arrive due to the quarantine. The communication between me and the company was easy and helpful.
Extremely fast shipping! I really was very surprised to get my parcel that fast.
Excellent place to buy. Good prices and fast shipping. It's not the first time and it will not be the last...
Shipped on time even with all the problems Covid 19 has caused with postal services, packed tightly and securely and came in perfect condition!