Product Filter
Category
Sets

(1159)

LEGO Parts

(1855)

LEGO Clothing

(1390)

LEGO Books

(207)

LEGO Bags

(72)

Extras

(611)
LEGO Theme
ART

(11)

Architecture

(12)

Avatar

(4)

BricQ

(4)

Brick Sketches

(2)

Brickheadz

(16)

City

(305)

Classic

(262)

Creator

(43)

DC Batman

(260)

DC Super Heroes

(16)

DOTS

(55)

DUPLO

(106)

Dimensions

(2)

Disney

(55)

Elves

(1)

Fantastic Beasts

(1)

Friends

(135)

Ghostbusters

(1)

Harry Potter

(67)

Hidden Side

(1)

House

(4)

Icons

(48)

Ideas

(23)

Jurassic World

(109)

LEGOLAND

(7)

Lord of the Rings

(1)

MARVEL

(66)

Mindstorms

(13)

Minecraft

(34)

Minifigures

(46)

Minions

(6)

Monkey Kid

(12)

Nexo Knights

(2)

Ninjago

(436)

Overwatch

(1)

Power Functions

(8)

Powered UP

(19)

SPIKE™ Prime

(8)

Serious Play

(4)

Simpsons

(1)

Speed Champions

(39)

Star Wars

(128)

Stranger Things

(1)

Super Mario

(48)

Technic

(60)

The Batman Movie

(2)

The LEGO Movie 2

(9)

UniKitty

(2)

Vidiyo

(14)

WeDo

(5)

xtra

(7)

More
Less
Price
Under €5

(842)

Under €10

(2006)

Under €20

(3842)

Under €30

(4485)

Under €40

(4695)

Under €50

(4826)

Under €100

(5076)

Under €200

(5222)

Under €1000

(5292)

More
Less
Brand
LEGO

(3778)

LEGO Education

(41)

LEGOwear

(1390)

BRICKshop

(12)

Duracell

(3)

Hubelino

(11)

SBRICK

(1)

Varta

(11)

LEGO IKEA

(4)

Other manufacturers

(35)

More
Less
Age
from 1 years

(4)

from 1½ years

(43)

from 2 years

(99)

from 3 years

(261)

from 4 years

(2295)

from 5 years

(441)

from 6 years

(821)

from 7 years

(344)

from 8 years

(334)

from 9 years

(217)

from 10 years

(196)

from 11 years

(13)

from 12 years

(28)

from 13 years

(4)

from 14 years

(8)

from 15 years

(5)

from 16 years

(38)

from 18 years

(97)

More
Less
Gender
Boy

(1851)

Girl

(421)

Boy/Girl

(1131)
Special
Special day
Brith Day

(21)

Christmas

(39)

Easter

(5)

Fathers Day

(4)

Halloween

(19)

Marriage

(2)

New Year

(7)

Valentine

(4)

All Options
Hide Options
Discount
Discount: 90%

(2)

Discount: 80%

(7)

Discount: 75%

(4)

Discount: 70%

(3)

Discount: 60%

(2)

Discount: 51%

(14)

Discount: 50%

(399)

Discount: 49%

(6)

Discount: 40%

(10)

Discount: 30%

(56)

Discount: 25%

(203)

Discount: 24%

(1)

Discount: 20%

(401)

Discount: 15%

(133)

Discount: 10%

(30)

All Options
Hide Options
Reviews
5 stars

(2569)

4 stars

(100)

3 stars

(7)

2 stars

(2)

1 stars

(3)

All Options
Hide Options
Stock
Not available

(710)

In Stock

(4562)

Coming soon

(24)

All Options
Hide Options
Year
2022

(678)

2021

(1338)

2020

(659)

2019

(345)

2018

(186)

2017

(124)

2016

(107)

2015

(90)

2014

(46)

2013

(57)

2012

(66)

2011

(53)

2010

(149)

2009

(96)

2008

(82)

2007

(26)

2006

(48)

2005

(26)

2004

(65)

2003

(22)

2002

(35)

2001

(21)

2000

(33)

1999

(42)

1998

(19)

1997

(28)

1996

(28)

1995

(21)

1994

(8)

1993

(19)

1992

(16)

1991

(14)

1990

(26)

1989

(5)

1988

(14)

1987

(29)

1986

(8)

1985

(31)

1984

(35)

1983

(10)

1982

(7)

1981

(3)

1980

(66)

1979

(24)

1978

(64)

1977

(71)

1976

(37)

1973

(22)

1972

(36)

1971

(5)

1970

(19)

1969

(1)

1967

(5)

1966

(4)

1964

(14)

1963

(22)

1962

(71)

1961

(44)

1959

(23)

1958

(9)

1957

(3)

1956

(4)

1954

(31)

All Options
Hide Options

Monday, 30 August 2021 12:05 |

Written by André de Goeij
Na een teleurstellende racedag in Spa, is het tijd voor de GP van Gorkum. De Formule 1 Grand Prix van Gorkum speelt zich af in de etalage van de BRICKshop in Gorinchem. Het LEGO stratencircuit is drukbezocht door heel veel LEGO minifguren, die Max Verstappen willen zien! Net als in Zandvoort ligt dit circuit aan de kust. Er zijn heel veel details aangebracht. Komen jullie ook kijken?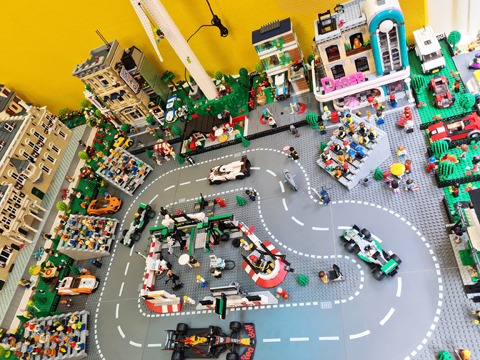 Mega assortment


Wrapped with care


Quick shipment


Free products


Super Deals


Safe & Reliable


Click & Collect
Got the parcel in a few days and the Legos were in excellent conditions. Will definitely buy again. Thanks!!
Very well packaged, clear ordering process, and quick delivery. You just got a new client for life. Just to bad the Lego Catalogue is missing. Would be nice to see the sets on paper,
From:
Ricardo Gonçalo Albino Ramires
Excellent service and received order quicker than expected. Will definitely order again
easy to place and track my order. Shipment arrived on time in good condition.
First time to order from brickshop and very impressed with the service. Ordered on a Sunday and arrived Thursday morning.