Hoe LEGO is begonnen...
More than 60 years ago, Ole Kirk Christiansen started making wooden toys. He launched his company in 1932 and two years later, he named it LEGO by taking the first two letters of the words 'Leg' and 'Godt'. 'Leg Godt' means 'play well' in Danish. Christiansen valued the quality of his products from the beginning.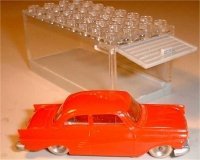 Since then, the company developed from a small workshop with only 6 employees in a village somewhere in Jutland into a global enterprise with over 9000 employees. More than 100 million LEGO sets are designed, produced and sold every year! Did you know that in some western countries, 9 out of 10 families with kids under the age of 14 own LEGO toys? In The Netherlands, LEGO can be bought since 1957.
The company has broadened its horizon beyond LEGO building blocks. Two LEGO theme parks now exist in England and in Denmark, of course. Furthermore, LEGO is involved in educational practices and offers licenses to books and clothing manufacturers, for example, to develop and sell LEGO-themed products.
De oprichter van LEGO, Ole Kirk Christiansen, wilde al verantwoord speelgoed maken. Speelgoed van een hoge kwaliteit waar kinderen creatief mee aan de slag gaan en wat hen steeds weer een uitdaging biedt. Nog steeds wordt daar op gelet. Voordat nieuwe LEGO producten in de winkels belanden, wordt door onderzoekers met kinderen, ouders en leerkrachten gesproken en wordt het speelgoed getest. LEGO moet immers in de smaak vallen, de fantasie van kinderen prikkelen en hun behoefte om nieuwe dingen te maken stimuleren.
Het productieproces voor LEGO bouwstenen is grotendeels geautomatiseerd. In de moderne fabrieken (o.a. in Denemarken, Duitsland en Zwitserland) verzamelen robots de gemaakte stenen en brengen deze automatisch naar het magazijn. De machines die de bekende felgekleurde steentjes maken, zijn zeer nauwkeurig. De mallen die de stenen 'persen' hebben een afwijking van maximaal 0,005 mm!
Ook de machines die de LEGO onderdelen bedrukken of inpakken, werken zeer precies. Sommige machines zijn door de eigen mensen van het bedrijf ontwikkeld. Als een afdeling in de fabriek bepaalde stenen nodig heeft, worden die geheel automatisch door een vorkheftruck (zonder bestuurder!) uit het magazijn gehaald en naar de juiste plek gebracht.
LEGO geeft heel veel mogelijkheden. Ga maar na: 6 standaard bouwstenen zijn op maar liefst 102.981.500 (100 miljoen) verschillende manieren te combineren!
Het DUPLO programma is in 1969 gelanceerd. Het is speciaal ontwikkeld voor baby's en peuters, wanneer de ontwikkeling van een kind het snelst gaat. DUPLO voorziet in de behoefte van kinderen om te ontdekken, te voelen en aan te raken, om kleuren en vormen te leren. De allerjongsten kunnen beginnen met Primo producten en zo hun vaardigheden ontwikkelen.
LEGO SYSTEM is het hart van het LEGO programma en biedt de meeste keus. Kinderen kunnen in allerlei 'werelden' bouwen, variërend van piraten tot ridders, van science fiction naar een onderwater-wereld. Thema's uit het heden, verleden en de toekomst bieden de kinderen veel mogelijkheden.
LEGO TECHNIC is ontwikkeld voor de technisch ingestelde kinderen vanaf zo'n 7 jaar. Het kind kan zo spelenderwijs ontdekken hoe een technisch product is gebouwd en werkt. Van een helicopter tot een motorfiets. Ook zijn er zeer geavanceerde bouwdozen met bijvoorbeeld mechanische, pneumatische of elektronische functies. Sommige dozen zijn tegenwoordig zelfs voorzien van een CD-ROM om op de computer een model te ontwerpen.
LEGO timmert veel aan de weg. Niet alleen wordt er (over de hele wereld) veel reclame gemaakt op de televisie en in allerlei bladen, maar ook is het merk LEGO op andere fronten zeer actief. Zo werkt LEGO mee bij bepaalde acties van winkels of levert het bedrijf materiaal bij recordpogingen als het bouwen van LEGO torens. Ook bouwen echte architecten met LEGO stenen gigantische gebouwen die bijvoorbeeld in musea worden getoond.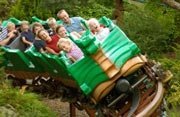 Het pretpark LEGOLAND in Billund, Denemarken opende haar poorten in 1968 en heeft sindsdien meer dan 25 miljoen bezoekers verwelkomd. Vorig jaar ging een tweede LEGOLAND open en wel in Windsor (bij Londen) en in 1999 gaat er in de Verenigde Staten een LEGOLAND van start. De parken richten zich vooral op gezinnen met kinderen in de LEGO leeftijd, zeg maar tot zo'n 12 jaar.
In LEGOLAND Billund zijn bijna 45 miljoen LEGO en DUPLO elementen gebruikt. Alles is er dan ook van gemaakt: Gebouwen, schepen, auto's, dieren, etc.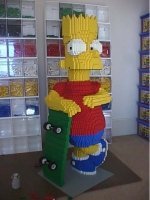 Dagelijks is een aantal modellenmakers in Denemarken bezig met het bouwen van nieuwe LEGO modellen. Veel kinderen zullen wel jaloers zijn op zo'n baan! De vele bouwstenen worden aan elkaar gelijmd en de soms metershoge figuren gaan de hele wereld over.
Hiernaast vind u een voorbeeld van zo'n sculpture! Hier is Bart Simpson gebouwd op 1 meter 80 hoog!
.