Product Filter
Category
Sets

(1345)

LEGO Parts

(1513)

LEGO Clothing

(1486)

LEGO Books

(197)

LEGO Bags

(40)

Extras

(662)
LEGO Theme
(2326)

ART

(14)

Architecture

(13)

Avatar

(9)

Batman

(275)

Brick Sketches

(5)

Brickheadz

(39)

City

(321)

Classic

(299)

Creator

(66)

DC Super Heroes

(10)

DOTS

(52)

DREAMZzz

(11)

DUPLO

(102)

Disney

(67)

Friends

(151)

Gaby's Dollhouse

(4)

Harry Potter

(159)

House

(2)

Icons

(65)

Ideas

(36)

Indiana Jones

(3)

Jurassic World

(101)

LEGOLAND

(4)

Lord of the Rings

(1)

MARVEL

(96)

Mindstorms

(4)

Minecraft

(53)

Minifigures

(48)

Minions

(3)

Monkie Kid

(11)

Nexo Knights

(1)

Ninjago

(526)

Power Functions

(5)

Powered UP

(13)

SPIKE™ Prime

(2)

Serious Play

(4)

Sonic

(5)

Speed Champions

(34)

Star Wars

(117)

Super Mario

(59)

Technic

(64)

The LEGO Movie 2

(1)

Vidiyo

(14)

xtra

(3)

More
Less
Price
Under €5

(837)

Under €10

(1865)

Under €20

(3477)

Under €30

(4322)

Under €40

(4600)

Under €50

(4723)

Under €100

(4989)

Under €200

(5154)

Under €1000

(5238)

More
Less
Brand
LEGO

(3668)

LEGO Education

(11)

LEGOwear

(1486)

BRICKshop

(13)

Duracell

(4)

Hubelino

(35)

Varta

(11)

LEGO IKEA

(4)

Other manufacturers

(9)

More
Less
Age
from 1 years

(3)

from 1½ years

(59)

from 2 years

(95)

from 3 years

(274)

from 4 years

(2001)

from 5 years

(478)

from 6 years

(852)

from 7 years

(373)

from 8 years

(362)

from 9 years

(255)

from 10 years

(215)

from 11 years

(11)

from 12 years

(30)

from 14 years

(7)

from 15 years

(1)

from 16 years

(31)

from 18 years

(151)

More
Less
Gender
Boy

(1682)

Girl

(406)

Boy/Girl

(1545)
Special
Special day
Brith Day

(24)

Christmas

(49)

Easter

(8)

Halloween

(20)

Marriage

(1)

Mothers Day

(11)

New Year

(11)

Summer Deals

(1)

Thanksgiving

(1)

Valentine

(4)

All Options
Hide Options
Discount
Discount: 100%

(4)

Discount: 80%

(6)

Discount: 75%

(3)

Discount: 70%

(1)

Discount: 60%

(2)

Discount: 51%

(17)

Discount: 50%

(415)

Discount: 49%

(6)

Discount: 40%

(10)

Discount: 34%

(1)

Discount: 30%

(105)

Discount: 25%

(291)

Discount: 20%

(370)

Discount: 15%

(204)

Discount: 10%

(32)

All Options
Hide Options
Reviews
5 stars

(2695)

4 stars

(71)

3 stars

(5)

1 stars

(3)

All Options
Hide Options
Stock
Not available

(454)

In Stock

(4785)

Coming soon

(4)

All Options
Hide Options
Year
2023

(885)

2022

(754)

2021

(1064)

2020

(506)

2019

(278)

2018

(171)

2017

(106)

2016

(80)

2015

(69)

2014

(30)

2013

(58)

2012

(57)

2011

(49)

2010

(140)

2009

(84)

2008

(50)

2007

(13)

2006

(33)

2005

(28)

2004

(47)

2003

(12)

2002

(21)

2001

(12)

2000

(25)

1999

(31)

1998

(19)

1997

(19)

1996

(24)

1995

(19)

1994

(7)

1993

(15)

1992

(11)

1991

(10)

1990

(16)

1989

(2)

1988

(7)

1987

(27)

1986

(5)

1985

(30)

1984

(21)

1983

(9)

1982

(8)

1981

(3)

1980

(46)

1979

(17)

1978

(45)

1977

(53)

1976

(24)

1973

(12)

1972

(33)

1971

(4)

1970

(2)

1969

(1)

1967

(1)

1966

(3)

1964

(2)

1963

(20)

1962

(63)

1961

(20)

1959

(13)

1958

(1)

1957

(4)

1956

(1)

1954

(20)

All Options
Hide Options
LEGO Minions

Stimulate the imagination of young Minions fans with LEGO Minions building toys for kids. Discover inventions, kung fu, fireworks and more when kids re-enact favorite scenes from the Minions movie: The Rise of Gru.
#1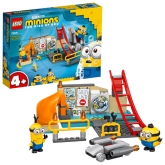 #2
Results 1 - 2 of 2

Mega assortment


Wrapped with care


Quick shipment


Free products


Super Deals


Safe & Reliable


Click & Collect
Excellent service. Just two days delivery to the UK and fully tracked all the way
▄▀▄▀▄█▓▒░ 1St CLASS ░▒▓█▀▄▀▄▀▄█▓▒░ EXCELLENT SELLER!!!
From:
Alexandre Miguel Neves
Super! Easy to use site. Plenty of choice. The delivery was very fast. Perhaps not as many emails needed when processing the order but it did mean I knew what we going on.
Perfect service including delivery to the UK in under 1 week from date of purchase. Many thanks!
I can't say enough good things about the Brickshop's service. Great selection, prices, service and always on time. Thank you again!