Product Filter
Category
Sets

(1223)

LEGO Parts

(1610)

LEGO Clothing

(1396)

LEGO Books

(236)

LEGO Bags

(57)

Extras

(662)
LEGO Theme
(2427)

ART

(12)

Architecture

(13)

Avatar

(9)

BricQ

(1)

Brick Sketches

(7)

Brickheadz

(24)

City

(314)

Classic

(336)

Creator

(62)

DC Batman

(270)

DC Super Heroes

(13)

DOTS

(61)

DUPLO

(91)

Dimensions

(2)

Disney

(54)

Fantastic Beasts

(1)

Friends

(150)

Harry Potter

(121)

House

(2)

Icons

(57)

Ideas

(32)

Indiana Jones

(3)

Jurassic World

(107)

LEGOLAND

(6)

Lord of the Rings

(1)

MARVEL

(89)

Mindstorms

(7)

Minecraft

(46)

Minifigures

(49)

Minions

(4)

Monkie Kid

(8)

Nexo Knights

(1)

Ninjago

(467)

Power Functions

(7)

Powered UP

(13)

SPIKE™ Prime

(4)

Serious Play

(4)

Speed Champions

(38)

Star Wars

(129)

Super Mario

(53)

Technic

(64)

The LEGO Movie 2

(7)

Vidiyo

(14)

WeDo

(2)

xtra

(3)

More
Less
Price
Under €5

(842)

Under €10

(1924)

Under €20

(3581)

Under €30

(4365)

Under €40

(4606)

Under €50

(4732)

Under €100

(4956)

Under €200

(5099)

Under €1000

(5178)

More
Less
Brand
LEGO

(3681)

LEGO Education

(17)

LEGOwear

(1395)

BRICKshop

(12)

Duracell

(5)

Hubelino

(15)

Librero

(2)

SBRICK

(1)

Varta

(11)

LEGO IKEA

(4)

Other manufacturers

(37)

More
Less
Age
from 1 years

(3)

from 1½ years

(55)

from 2 years

(86)

from 3 years

(263)

from 4 years

(2073)

from 5 years

(459)

from 6 years

(876)

from 7 years

(363)

from 8 years

(343)

from 9 years

(232)

from 10 years

(188)

from 11 years

(12)

from 12 years

(27)

from 14 years

(5)

from 15 years

(3)

from 16 years

(31)

from 18 years

(122)

More
Less
Gender
Boy

(1749)

Girl

(419)

Boy/Girl

(1329)
Special
Special day
Brith Day

(19)

Christmas

(51)

Easter

(11)

Halloween

(21)

Mothers Day

(12)

New Year

(9)

Valentine

(3)

All Options
Hide Options
Discount
Discount: 100%

(4)

Discount: 90%

(2)

Discount: 80%

(4)

Discount: 75%

(1)

Discount: 70%

(2)

Discount: 60%

(2)

Discount: 51%

(12)

Discount: 50%

(491)

Discount: 49%

(6)

Discount: 40%

(16)

Discount: 33%

(197)

Discount: 30%

(251)

Discount: 25%

(101)

Discount: 20%

(200)

Discount: 15%

(140)

Discount: 10%

(10)

All Options
Hide Options
Reviews
5 stars

(2634)

4 stars

(74)

3 stars

(6)

2 stars

(2)

1 stars

(1)

All Options
Hide Options
Stock
Not available

(501)

In Stock

(4666)

Coming soon

(18)

All Options
Hide Options
Year
2023

(427)

2022

(771)

2021

(1172)

2020

(575)

2019

(310)

2018

(185)

2017

(116)

2016

(91)

2015

(74)

2014

(33)

2013

(65)

2012

(58)

2011

(43)

2010

(142)

2009

(86)

2008

(61)

2007

(16)

2006

(34)

2005

(13)

2004

(53)

2003

(10)

2002

(18)

2001

(14)

2000

(25)

1999

(33)

1998

(18)

1997

(17)

1996

(22)

1995

(22)

1994

(7)

1993

(16)

1992

(15)

1991

(14)

1990

(20)

1989

(3)

1988

(7)

1987

(36)

1986

(5)

1985

(23)

1984

(33)

1983

(9)

1982

(5)

1981

(4)

1980

(52)

1979

(21)

1978

(50)

1977

(71)

1976

(35)

1973

(18)

1972

(30)

1971

(3)

1970

(8)

1967

(1)

1966

(3)

1964

(14)

1963

(25)

1962

(60)

1961

(41)

1959

(16)

1958

(2)

1957

(4)

1956

(2)

1954

(24)

All Options
Hide Options
LEGO Lord of the Rings

Build and recreate favorite moments from Middle-earth with LEGO Lord of the Rings sets. Whether you're a new fan, superfan or somewhere in between, join the epic battle between good and evil. The fantasy world of The Lord of the Rings consists of legendary books, movies and the new TV series The Lord of the Rings: The Rings of Power. These Lord of the Rings gifts and toys, for ages 10 and up and adults, are inspired by the mythical locations and familiar characters of Frodo, Gandalf the Gray and Aragorn. Discover your next precious LEGO BrickHeadz Lord of the Rings figures, gifts as awesome as the Arkenstone and much more.
#1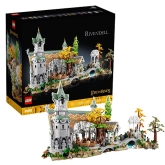 Mega assortment


Wrapped with care


Quick shipment


Free products


Super Deals


Safe & Reliable


Click & Collect
Excellent service, used DHL option for delivery and couldn't have asked for quicker. Most reliable. Ordering is easy and products come well packaged. Would definitely recommend
Brilliant service. Good value. Delivered quickly with all duty and tax covered so no nasty surprises on arrival in UK. Delivered in perfect condition.
Quick delivery, good price as usual. Am very happy, therefore I keep coming back for more.
Excellent fast delivery best price awesome boxes will definatly buy again thanks :) :) :)
Yet another impressively fast order! Amazing prices and quick shipping. Thank you.