Product Filter
Category
Sets

(1131)

LEGO Parts

(1185)

LEGO Clothing

(1037)

LEGO Books

(236)

LEGO Bags

(53)

Extras

(636)
LEGO Theme
ART

(7)

Adidas

(1)

Architecture

(19)

Boost

(3)

Brick Sketches

(5)

Brickheadz

(34)

City

(222)

Classic

(163)

Creator

(87)

DC Batman

(206)

DC Comics Super Heroes

(23)

DOTS

(37)

DUPLO

(88)

Dimensions

(3)

Disney

(44)

Fantastic Beasts

(3)

Friends

(161)

Harry Potter

(62)

Hero Factory

(2)

Hidden Side

(13)

Ideas

(19)

Jurassic World

(59)

LEGOLAND

(5)

Legends of Chima

(1)

Lord of the Rings

(1)

Marvel Avengers

(27)

Marvel Super Heroes

(22)

Mindstorms

(24)

Minecraft

(26)

Minifigures

(37)

Minions

(6)

Monkey Kid

(13)

Nexo Knights

(1)

Ninjago

(275)

Overwatch

(4)

Power Functions

(19)

Powered UP

(15)

Powerpuff Girls

(1)

Racers

(1)

SPIKE™ Prime

(7)

Serious Play

(7)

Simpsons

(2)

Speed Champions

(38)

Star Wars

(144)

Stranger Things

(1)

Super Mario

(34)

Technic

(59)

The Batman Movie

(29)

The LEGO Movie 2

(34)

Toy Story 4

(5)

Trolls

(6)

UniKitty

(4)

Vidiyo

(17)

WeDo

(6)

xtra

(9)

Meer
Minder
Price
Under €5

(600)

Under €10

(1415)

Under €20

(2959)

Under €30

(3573)

Under €40

(3763)

Under €50

(3858)

Under €100

(4102)

Under €200

(4214)

Under €1000

(4276)

Meer
Minder
Brand
LEGO

(3055)

LEGO Education

(51)

LEGOwear

(1016)

BRICKshop

(12)

Duracell

(4)

FaBiox

(1)

GalaxyArms

(1)

Hubelino

(14)

SBRICK

(2)

Varta

(11)

LEGO IKEA

(4)

Other manufacturers

(91)

Meer
Minder
Age
from 1 years

(4)

from 1½ years

(25)

from 2 years

(82)

from 3 years

(232)

from 4 years

(1554)

from 5 years

(387)

from 6 years

(737)

from 7 years

(358)

from 8 years

(299)

from 9 years

(170)

from 10 years

(219)

from 11 years

(16)

from 12 years

(34)

from 13 years

(5)

from 14 years

(12)

from 15 years

(5)

from 16 years

(43)

from 18 years

(56)

from 21 years

(5)

Meer
Minder
Gender
Boy

(1522)

Girl

(407)

Boy/Girl

(1186)
Speciaal
Special day
Black Friday

(1)

Brith Day

(15)

Christmas

(39)

Easter

(6)

Fathers Day

(6)

Halloween

(28)

Marrige

(2)

Mothers Day

(7)

New Year

(6)

Thanksgiving

(1)

Valentine

(5)

Alle opties
Verberg opties
Discount
Discount: 90%

(2)

Discount: 80%

(17)

Discount: 75%

(2)

Discount: 70%

(7)

Discount: 60%

(2)

Discount: 51%

(1)

Discount: 50%

(72)

Discount: 40%

(10)

Discount: 33%

(15)

Discount: 30%

(37)

Discount: 25%

(95)

Discount: 20%

(292)

Discount: 15%

(299)

Discount: 10%

(38)

Alle opties
Verberg opties
Reviews
5 stars

(2225)

4 stars

(119)

3 stars

(14)

2 stars

(1)

1 stars

(1)

Alle opties
Verberg opties
Stock
Not available

(375)

In Stock

(3879)

Coming soon

(22)

Preorder

(4)

Alle opties
Verberg opties
Year
2022

(2)

2021

(1027)

2020

(863)

2019

(469)

2018

(264)

2017

(183)

2016

(115)

2015

(97)

2014

(42)

2013

(66)

2012

(60)

2011

(46)

2010

(135)

2009

(61)

2008

(48)

2007

(15)

2006

(25)

2005

(13)

2004

(45)

2003

(13)

2002

(15)

2001

(10)

2000

(26)

1999

(20)

1998

(18)

1997

(16)

1996

(21)

1995

(12)

1994

(4)

1993

(11)

1992

(11)

1991

(12)

1990

(18)

1989

(3)

1988

(9)

1987

(23)

1986

(3)

1985

(30)

1984

(19)

1983

(8)

1982

(9)

1981

(2)

1980

(44)

1979

(21)

1978

(41)

1977

(39)

1976

(23)

1973

(14)

1972

(26)

1971

(3)

1970

(9)

1967

(4)

1966

(1)

1965

(14)

1964

(8)

1962

(63)

1961

(7)

1959

(35)

1958

(4)

1957

(3)

1956

(3)

1954

(20)

Alle opties
Verberg opties
LEGO Stranger Things
Immerse yourself in the world of LEGO Stranger Things. With this detailed set inspired by the hit Netflix original series, discover the popular characters and authentic details that you will recognize from the retro 1980s universe.
#1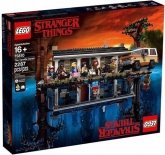 € 179,99
Retail price: € 199,99

Mega assortment


Wrapped with care


Quick shipment


Free products


Super Deals


Safe & Reliable


Click & Collect
Delivered as expected. Earlier than DHL told. Packing and condition is perfect. Thank you!
War überrascht wie schnell die Lieferung kam. Hat alles bestens funktioniert. Jederzeit gerne wieder.
envoi rapide. dommage que les frais de port ne soient pas gratuit vu la somme de la commande.
Super fast response to e-mail inquiries and quick dispatch. Goods well packaged. Absolutely recommendable.
My order was processed and shipped the same day, so the package arrived very quickly in Germany! I'm absolutely surprised and enthusiastic about the great service! Highly recommended and gladly again! :-)