Product Filter
Category
Sets

(1345)

LEGO Parts

(1513)

LEGO Clothing

(1486)

LEGO Books

(197)

LEGO Bags

(40)

Extras

(662)
LEGO Theme
(2326)

ART

(14)

Architecture

(13)

Avatar

(9)

Batman

(275)

Brick Sketches

(5)

Brickheadz

(39)

City

(321)

Classic

(299)

Creator

(66)

DC Super Heroes

(10)

DOTS

(52)

DREAMZzz

(11)

DUPLO

(102)

Disney

(67)

Friends

(151)

Gaby's Dollhouse

(4)

Harry Potter

(159)

House

(2)

Icons

(65)

Ideas

(36)

Indiana Jones

(3)

Jurassic World

(101)

LEGOLAND

(4)

Lord of the Rings

(1)

MARVEL

(96)

Mindstorms

(4)

Minecraft

(53)

Minifigures

(48)

Minions

(3)

Monkie Kid

(11)

Nexo Knights

(1)

Ninjago

(526)

Power Functions

(5)

Powered UP

(13)

SPIKE™ Prime

(2)

Serious Play

(4)

Sonic

(5)

Speed Champions

(34)

Star Wars

(117)

Super Mario

(59)

Technic

(64)

The LEGO Movie 2

(1)

Vidiyo

(14)

xtra

(3)

More
Less
Price
Under €5

(837)

Under €10

(1865)

Under €20

(3477)

Under €30

(4322)

Under €40

(4600)

Under €50

(4723)

Under €100

(4989)

Under €200

(5154)

Under €1000

(5238)

More
Less
Brand
LEGO

(3668)

LEGO Education

(11)

LEGOwear

(1486)

BRICKshop

(13)

Duracell

(4)

Hubelino

(35)

Varta

(11)

LEGO IKEA

(4)

Other manufacturers

(9)

More
Less
Age
from 1 years

(3)

from 1½ years

(59)

from 2 years

(95)

from 3 years

(274)

from 4 years

(2001)

from 5 years

(478)

from 6 years

(852)

from 7 years

(373)

from 8 years

(362)

from 9 years

(255)

from 10 years

(215)

from 11 years

(11)

from 12 years

(30)

from 14 years

(7)

from 15 years

(1)

from 16 years

(31)

from 18 years

(151)

More
Less
Gender
Boy

(1682)

Girl

(406)

Boy/Girl

(1545)
Special
Special day
Brith Day

(24)

Christmas

(49)

Easter

(8)

Halloween

(20)

Marriage

(1)

Mothers Day

(11)

New Year

(11)

Summer Deals

(1)

Thanksgiving

(1)

Valentine

(4)

All Options
Hide Options
Discount
Discount: 100%

(4)

Discount: 80%

(6)

Discount: 75%

(3)

Discount: 70%

(1)

Discount: 60%

(2)

Discount: 51%

(17)

Discount: 50%

(415)

Discount: 49%

(6)

Discount: 40%

(10)

Discount: 34%

(1)

Discount: 30%

(105)

Discount: 25%

(291)

Discount: 20%

(370)

Discount: 15%

(204)

Discount: 10%

(32)

All Options
Hide Options
Reviews
5 stars

(2695)

4 stars

(71)

3 stars

(5)

1 stars

(3)

All Options
Hide Options
Stock
Not available

(454)

In Stock

(4785)

Coming soon

(4)

All Options
Hide Options
Year
2023

(885)

2022

(754)

2021

(1064)

2020

(506)

2019

(278)

2018

(171)

2017

(106)

2016

(80)

2015

(69)

2014

(30)

2013

(58)

2012

(57)

2011

(49)

2010

(140)

2009

(84)

2008

(50)

2007

(13)

2006

(33)

2005

(28)

2004

(47)

2003

(12)

2002

(21)

2001

(12)

2000

(25)

1999

(31)

1998

(19)

1997

(19)

1996

(24)

1995

(19)

1994

(7)

1993

(15)

1992

(11)

1991

(10)

1990

(16)

1989

(2)

1988

(7)

1987

(27)

1986

(5)

1985

(30)

1984

(21)

1983

(9)

1982

(8)

1981

(3)

1980

(46)

1979

(17)

1978

(45)

1977

(53)

1976

(24)

1973

(12)

1972

(33)

1971

(4)

1970

(2)

1969

(1)

1967

(1)

1966

(3)

1964

(2)

1963

(20)

1962

(63)

1961

(20)

1959

(13)

1958

(1)

1957

(4)

1956

(1)

1954

(20)

All Options
Hide Options
LEGO Indiana Jones

Relive the adventures of archeology professor Indiana Jones. This character from a trio of 1980s films of the same name has great adventures in tombs and temples during his search for ancient treasures. Run for your life as you and Indiana try to escape from the bad guys.
#1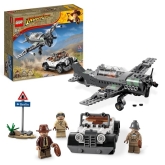 € 27,99
Retail price: € 34,99
#2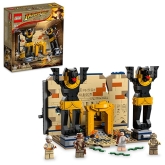 € 31,99
Retail price: € 39,99
#3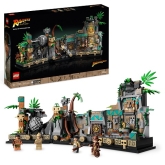 € 119,99
Retail price: € 149,99
Results 1 - 3 of 3

Mega assortment


Wrapped with care


Quick shipment


Free products


Super Deals


Safe & Reliable


Click & Collect
You saved our Christmas!! The Boost was sold out everywhere but not only did you have it available but also at a great price and you shipped it superfast!! Thank you
Very fast service and excellent product. I enjoyed a lot my experience with Brickshop.eu
Excellent service. Very efficient and quick delivery. I was kept informed of each order processing step.
We loved our camper van lego set. Only thing is, that the rooftop is not as stable as it should be, especially considering the price of the set. But we love all the details and authenticity of the Volkswagen van.
Same as with the other orders - very fast and complete and excellent quality