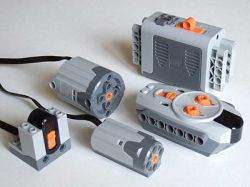 One of our most frequently asked questions involves the making of a power-run train. Customers ask whether is it possible to add LEGO's Power Functions to an existing train, for example, or inquire what is needed to make a car or other object remotely controlled.
Information about the separate parts can be found below together with some tips in order to give you an orientation of the possibilities. You might, however, need some extra bricks/parts that are not mentioned here and we suggest you make use of your own creativity as well.
We lichten hier de LEGO Power Functions toe aan de hand van een aantal voorbeelden. Dit kan gebruikt worden voor treinen, maar ook voor andere voertuigen. Denk bijvoorbeeld aan het met infrarood bestuurbaar maken van een (Technic) tank, auto of vrachtwagen.

Soms bieden we ook complete kits aan om een bestaand model te voorzien van Power Functions, zo is er voorbeeld een speciale kit voor de Emerald stoomtrein (set 10194).

Beginnen met Power Functions


Om een motor te laten draaien of een licht te laten branden is er een energiebron nodig. Dit kan zijn een batterijhouder (set 8881 of service pack bb466) of een accu (ook wel oplaadbare batterijbox genoemd). Kiest u voor een accu (sets 8878) dan heeft u hierbij ook een oplader (set 8887) nodig.

Bediening op afstand


Wilt u een motor of licht op afstand bedienen, dan is tevens een ontvanger (set 8884) en een afstandsbediening (set 8885 of set 8879) nodig. De 8879 is iets uitgebreider, want deze kan ook de snelheid van de motor of intensiteit van het licht regelen, terwijl de 8885 alleen aan/uit of vooruit/achteruit kan schakelen.Voor treinen is 8879 het meest geschikt. Voor sommige treinen dient namelijk de snelheid te kunnen worden aangepast anders vliegen deze uit de rails.

Functies
Op de ontvanger zitten twee aansluitingen die apart te bedienen zijn. Zo is het dus mogelijk om bijvoorbeeld op de ene aansluiting de motor van de trein aan te sluiten. De andere aansluiting kan dan gebruikt worden voor verlichting, zodat die ook aan en uit te schakelen is of de trein nu rijdt of stilstaat. Een tweede voorbeeld is om de ene aansluiting te gebruiken om een auto te besturen en de andere aansluiting voor de aandrijving van de auto.
Zowel de afstandsbedieningen als de ontvangers kunnen worden ingesteld op 4 verschillende kanalen. Dat betekent dat met één afstandsbediening 4 ontvangers met elk twee aansluitingen kunnen worden bediend. In de praktijk komt dat neer op de bediening van 4 verschillende treinen met verlichting op dezelfde spoorbaan. Of bij Technic-modellen maximaal 8 verschillende functies.

Let op! De afstandsbedining van de treinen 7897 en 7898 werken niet samen met de huidige Power Functions!

Keuze van de motor
Bouwt u een auto of tank, dan zult u waarschijnlijk kiezen voor motor 8882 of 8883. Ook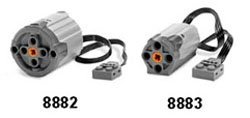 als u iets wilt laten draaien zoals bijvoorbeeld een reuzenrad of molen is dit een juiste keuze. Motor 8882 is aanzienlijk krachtiger dan 8883, maar natuurijk is kracht niet altijd nodig.

Bouwt u een trein dan zult al gauw kiezen voor een treinmotor. Het Power Functions Service pack met de treinmotor (item x1688a) bevat geen treinwielen. Denk hierom wanneer u gaat bestellen! Treinmotor 8866, gebruikt in trein 7897 en 7898, heeft geen Power Functions aansluiting.

Om de motor toch te kunnen gebruiken heeft u kabel 8871 of 8886 nodig. Deze kabels maken het mogelijk om Power Functions en oudere 9 volt items te combineren. De draden sluiten ook aan op de oudere 9 volt kabels, zodat u alles kunt blijven gebruiken!

Vervangen van de batterijbox door een accu (tbv set 7938 en 7939)
Klanten vragen ons vaak naar een oplossing om het batterijenverbuik te reduceren. Dit is vij simpel te realiseren met behulp van een oplaadbare batterijbox of accu (set 8878). Natuurlijk dient deze accu wel te worden opgeladen. Hiervoor is de Power Functions oplader (set 8887) beschikbaar.

Voorbeeld beginnerset
Hieronder staat een voorbeeld welke items u zou kunnen kiezen om een werkend geheel te krijgen. Diverse uitbreidingen zijn natuurlijk altijd mogelijk.
8878+8887, 8881 of bb466*
8879
8884
8866
8886 of 8871**
8870***
* Afhankelijk van de inbouwmogelijkheid en uw besteedingsruimte
** Lengte van de kabel is verschillend!
*** Voor verlichting van het object. Niet noodzakelijk, wel leuk!