Product Filter
Category
Sets

(1419)

LEGO Parts

(593)

LEGO Clothing

(1783)

LEGO Books

(280)

LEGO Bags

(53)

Extras

(741)
LEGO Theme
Architecture

(23)

Bionicle

(10)

Boost

(3)

Brickheadz

(25)

City

(246)

Classic

(148)

Creator

(94)

DC Batman

(26)

DC Comics Super Heroes

(48)

DOTS

(18)

DUPLO

(151)

Disney Princess

(39)

Elves

(11)

Fantastic Beasts

(2)

Friends

(531)

Ghostbusters

(1)

Harry Potter

(28)

Hidden Side

(19)

Ideas

(15)

Juniors

(3)

Jurassic World

(44)

Legends of Chima

(1)

Marvel Avengers

(14)

Marvel Super Heroes

(36)

Mindstorms

(40)

Minecraft

(22)

Minifigures

(77)

Minions

(3)

Monkey Kid

(8)

Nexo Knights

(25)

Ninjago

(347)

Overwatch

(9)

Power Functions

(28)

Powered UP

(10)

Powerpuff Girls

(2)

Racers

(7)

Serious Play

(6)

Speed Champions

(19)

Spike

(10)

Star Wars

(748)

Stranger Things

(1)

Super Mario

(2)

Technic

(63)

Teenage Mutant Ninja Turtles

(2)

The Batman Movie

(56)

The LEGO Movie 2

(70)

The Lone Ranger

(1)

The Simpsons

(1)

Toy Story 4

(6)

Trolls

(9)

UniKitty

(10)

WeDo

(7)

xtra

(13)

More
Less
Price
Under €5

(734)

Under €10

(1385)

Under €20

(2966)

Under €30

(3962)

Under €40

(4284)

Under €50

(4408)

Under €100

(4662)

Under €200

(4790)

Under €1000

(4867)

More
Less
Brand
LEGO

(2797)

LEGO Education

(123)

LEGOwear

(1783)

BRICKshop

(11)

Disney

(1)

Duracell

(3)

FaBiox

(2)

GalaxyArms

(6)

Hubelino

(14)

LIGHT STAX

(8)

SBRICK

(4)

Varta

(11)

Other manufacturers

(102)

More
Less
Age
from 0½ years

(11)

from 1 years

(13)

from 1½ years

(39)

from 2 years

(87)

from 2½ years

(1)

from 3 years

(198)

from 4 years

(1002)

from 5 years

(575)

from 6 years

(1028)

from 7 years

(463)

from 8 years

(357)

from 9 years

(205)

from 10 years

(269)

from 11 years

(108)

from 12 years

(99)

from 13 years

(1)

from 14 years

(9)

from 16 years

(44)

from 18 years

(5)

More
Less
Gender
Boy

(2184)

Girl

(681)

Boy/Girl

(1058)
Special
Special day
Black Friday

(3)

Brith Day

(43)

Christmas

(44)

Easter

(10)

Fathers Day

(5)

Halloween

(17)

Marrige

(3)

Mothers Day

(5)

New Year

(9)

Sinterklaas

(2)

Thanksgiving

(2)

Valentine

(8)

All Options
Hide Options
Discount
Discount: 90%

(2)

Discount: 80%

(15)

Discount: 70%

(4)

Discount: 60%

(1)

Discount: 51%

(2)

Discount: 50%

(238)

Discount: 40%

(453)

Discount: 38%

(1)

Discount: 30%

(45)

Discount: 25%

(72)

Discount: 20%

(260)

Discount: 17%

(1)

Discount: 15%

(235)

Discount: 10%

(47)

All Options
Hide Options
Reviews
5 stars

(2129)

4 stars

(458)

3 stars

(34)

2 stars

(8)

1 stars

(2)

All Options
Hide Options
Stock
Not available

(1593)

In Stock

(3240)

Coming soon

(6)

Preorder

(34)

All Options
Hide Options
Year
2020

(440)

2019

(800)

2018

(594)

2017

(538)

2016

(486)

2015

(437)

2014

(77)

2013

(195)

2012

(88)

2011

(56)

2010

(126)

2009

(48)

2008

(39)

2007

(14)

2006

(15)

2005

(5)

2004

(16)

2003

(6)

2002

(6)

2001

(5)

2000

(21)

1999

(15)

1998

(22)

1997

(11)

1996

(7)

1995

(11)

1994

(4)

1993

(9)

1992

(12)

1991

(4)

1990

(8)

1989

(4)

1988

(6)

1987

(11)

1986

(3)

1985

(26)

1984

(13)

1983

(4)

1982

(7)

1981

(1)

1980

(28)

1979

(15)

1978

(43)

1977

(17)

1976

(5)

1973

(9)

1972

(3)

1971

(5)

1970

(4)

1967

(4)

1966

(1)

1964

(7)

1962

(42)

1961

(4)

1959

(5)

1958

(1)

1954

(11)

All Options
Hide Options

Wednesday, 04 November 2009 17:11 |

Last Updated on Thursday, 05 November 2009 02:57 |

Written by Webmaster
Vanaf vandaag alle aanbiedingen met GRATIS verzenden bij elkaar! In één overzicht alle producten die het mogelijk maken uw complete order helemaal kosteloos (binnen Nederland) te laten verzenden.
En natuurlijk heeft BRICKshop gelijk een nieuwe superaanbieding voor u! LEGO Power Miners SUPERPACK bestaat uit 3 prachtige sets:
8709 Het ondergrond Mijnstation (Limited Edition)

8958 Granietkraker

8959 Klauwgraver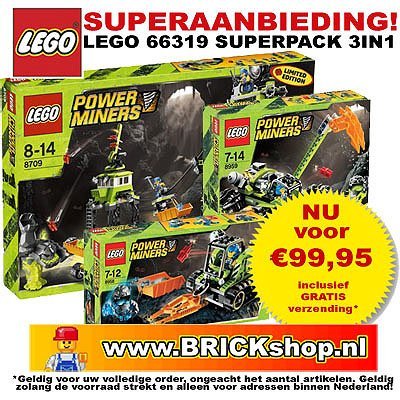 Voor de artikelen geldt dat uw volledige order GRATIS wordt verzonden. De aanbieding geldt in combinatie met de diverse DUPLO en LEGO artikelen, maar is vooralsnog alleen geldig voor adressen binnen Nederland en alleen geldig zolang de voorraad strekt of zolang de aktie duurt van dit product.
U vindt het overzicht bovenin het menu "Aanbiedingen" - "GRATIS Verzenden" of klik hier.