Product Filter
Category
Sets

(1084)

LEGO Parts

(983)

LEGO Clothing

(966)

LEGO Books

(236)

LEGO Bags

(51)

Extras

(626)
LEGO Theme
ART

(7)

Architecture

(19)

Boost

(3)

Brick Sketches

(5)

Brickheadz

(31)

City

(214)

Classic

(132)

Creator

(86)

DC Batman

(161)

DC Comics Super Heroes

(25)

DOTS

(35)

DUPLO

(88)

Dimensions

(3)

Disney

(45)

Fantastic Beasts

(3)

Friends

(163)

Harry Potter

(63)

Hidden Side

(13)

Ideas

(17)

Jurassic World

(56)

Legends of Chima

(1)

Lord of the Rings

(1)

Marvel Avengers

(25)

Marvel Super Heroes

(18)

Mindstorms

(24)

Minecraft

(25)

Minifigures

(38)

Minions

(6)

Monkey Kid

(6)

Nexo Knights

(1)

Ninjago

(236)

Overwatch

(4)

Power Functions

(21)

Powered UP

(15)

Powerpuff Girls

(1)

Racers

(1)

SPIKE™ Prime

(7)

Serious Play

(7)

Simpsons

(2)

Speed Champions

(39)

Star Wars

(133)

Stranger Things

(1)

Super Mario

(25)

Technic

(56)

The Batman Movie

(28)

The LEGO Movie 2

(34)

Toy Story 4

(5)

Trolls

(6)

UniKitty

(4)

Vidiyo

(15)

WeDo

(6)

xtra

(9)

More
Less
Price
Under €5

(541)

Under €10

(1270)

Under €20

(2678)

Under €30

(3276)

Under €40

(3460)

Under €50

(3549)

Under €100

(3783)

Under €200

(3884)

Under €1000

(3945)

More
Less
Brand
LEGO

(2769)

LEGO Education

(51)

LEGOwear

(966)

BRICKshop

(12)

Duracell

(4)

FaBiox

(1)

GalaxyArms

(1)

Hubelino

(14)

SBRICK

(2)

Varta

(11)

LEGO IKEA

(4)

Other manufacturers

(101)

More
Less
Age
from 1 years

(4)

from 1½ years

(25)

from 2 years

(76)

from 3 years

(221)

from 4 years

(1348)

from 5 years

(372)

from 6 years

(715)

from 7 years

(335)

from 8 years

(276)

from 9 years

(161)

from 10 years

(213)

from 11 years

(13)

from 12 years

(30)

from 13 years

(5)

from 14 years

(12)

from 15 years

(5)

from 16 years

(44)

from 18 years

(50)

from 21 years

(5)

More
Less
Gender
Boy

(1397)

Girl

(409)

Boy/Girl

(1171)
Special
Special day
Black Friday

(3)

Brith Day

(15)

Christmas

(39)

Easter

(6)

Fathers Day

(6)

Halloween

(27)

Marrige

(2)

Mothers Day

(8)

New Year

(6)

Valentine

(6)

All Options
Hide Options
Discount
Discount: 90%

(2)

Discount: 80%

(25)

Discount: 75%

(1)

Discount: 70%

(1)

Discount: 60%

(2)

Discount: 50%

(60)

Discount: 40%

(10)

Discount: 30%

(37)

Discount: 25%

(101)

Discount: 20%

(307)

Discount: 15%

(285)

Discount: 10%

(43)

All Options
Hide Options
Reviews
5 stars

(2061)

4 stars

(114)

3 stars

(14)

2 stars

(2)

1 stars

(2)

All Options
Hide Options
Stock
Not available

(340)

In Stock

(3586)

Coming soon

(11)

Preorder

(11)

All Options
Hide Options
Year
2022

(2)

2021

(883)

2020

(863)

2019

(474)

2018

(261)

2017

(178)

2016

(113)

2015

(101)

2014

(40)

2013

(59)

2012

(44)

2011

(39)

2010

(113)

2009

(44)

2008

(49)

2007

(19)

2006

(20)

2005

(12)

2004

(48)

2003

(11)

2002

(15)

2001

(6)

2000

(20)

1999

(15)

1998

(15)

1997

(11)

1996

(16)

1995

(12)

1994

(2)

1993

(7)

1992

(11)

1991

(10)

1990

(13)

1989

(2)

1988

(8)

1987

(20)

1986

(1)

1985

(26)

1984

(5)

1983

(5)

1982

(8)

1981

(2)

1980

(34)

1979

(15)

1978

(22)

1977

(37)

1976

(18)

1975

(1)

1973

(8)

1972

(24)

1971

(3)

1970

(7)

1967

(4)

1966

(1)

1965

(38)

1964

(7)

1962

(50)

1961

(4)

1959

(34)

1958

(3)

1957

(2)

1956

(2)

1954

(18)

All Options
Hide Options

Thursday, 02 July 2020 11:41 |

Last Updated on Thursday, 19 November 2020 17:40 |

Written by Z. Omer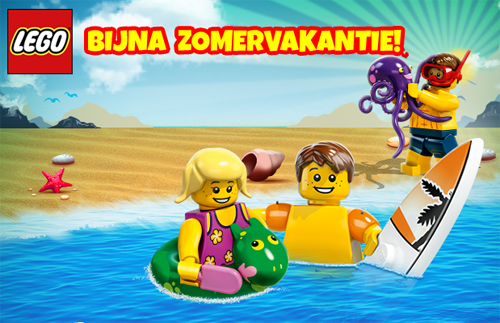 Zijn de kinderen èn ouders net weer gewend aan het schoolritme, gaan de scholen binnenkort weer dicht. Nu gelukkig met een fijne reden: Zomervakantie!
Met de zomervakantie in het vooruitzicht is er wellicht weer meer tijd om met LEGO te spelen. Want ook met zomerse temperaturen is dat leuk! Lekker buiten in het zonnetje, juist in de schaduw of toch liever in een gekoelde woning.
BRICKshop heeft verschillende LEGO en DUPLO bouwdozen met een zomers tintje. Wat denkt u van LEGO vakantiehuisjes, boten of voertuigen, zoals het surferbusje?
En misschien nog wel leuker: naar het zwembad of strand met je LEGO handdoek of neem LEGO mee in een (sorteer-)koffertje. Of 's nachts dromen in je LEGO shortama!
BRICKshop …. meer dan alleen blokjes!
Namens het team van BRICKshop alvast een fijne zomervakantie toegewenst!