Product Filter
Category
Sets

(1276)

LEGO Parts

(1796)

LEGO Clothing

(1380)

LEGO Books

(194)

LEGO Bags

(57)

Extras

(662)
LEGO Theme
(2578)

ART

(12)

Architecture

(12)

Avatar

(9)

BricQ

(1)

Brick Sketches

(7)

Brickheadz

(26)

City

(322)

Classic

(333)

Creator

(62)

DC Batman

(265)

DC Super Heroes

(11)

DOTS

(58)

DUPLO

(91)

Dimensions

(2)

Disney

(60)

Dreamzzz

(11)

Fantastic Beasts

(1)

Friends

(148)

Gaby's Dollhouse

(4)

Harry Potter

(124)

House

(2)

Icons

(56)

Ideas

(32)

Indiana Jones

(3)

Jurassic World

(101)

LEGOLAND

(6)

Lord of the Rings

(1)

MARVEL

(89)

Mindstorms

(5)

Minecraft

(42)

Minifigures

(47)

Minions

(3)

Monkie Kid

(11)

Nexo Knights

(1)

Ninjago

(474)

Power Functions

(6)

Powered UP

(13)

SPIKE™ Prime

(4)

Serious Play

(4)

Sonic

(4)

Speed Champions

(38)

Star Wars

(119)

Super Mario

(53)

Technic

(65)

The LEGO Movie 2

(4)

Vidiyo

(14)

WeDo

(2)

xtra

(3)

More
Less
Price
Under €5

(900)

Under €10

(2082)

Under €20

(3772)

Under €30

(4540)

Under €40

(4769)

Under €50

(4889)

Under €100

(5136)

Under €200

(5282)

Under €1000

(5360)

More
Less
Brand
LEGO

(3899)

LEGO Education

(16)

LEGOwear

(1380)

BRICKshop

(13)

Duracell

(5)

Hubelino

(15)

Librero

(1)

Varta

(11)

LEGO IKEA

(4)

Other manufacturers

(17)

More
Less
Age
from 1 years

(3)

from 1½ years

(54)

from 2 years

(87)

from 3 years

(266)

from 4 years

(2255)

from 5 years

(453)

from 6 years

(867)

from 7 years

(367)

from 8 years

(338)

from 9 years

(238)

from 10 years

(185)

from 11 years

(13)

from 12 years

(26)

from 14 years

(7)

from 15 years

(3)

from 16 years

(31)

from 18 years

(127)

More
Less
Gender
Boy

(1735)

Girl

(418)

Boy/Girl

(1373)
Special
Special day
Brith Day

(19)

Christmas

(39)

Easter

(9)

Halloween

(21)

Mothers Day

(11)

New Year

(9)

Summer Deals

(1)

Thanksgiving

(1)

Valentine

(3)

All Options
Hide Options
Discount
Discount: 100%

(3)

Discount: 80%

(7)

Discount: 75%

(3)

Discount: 70%

(1)

Discount: 60%

(2)

Discount: 51%

(17)

Discount: 50%

(468)

Discount: 49%

(6)

Discount: 40%

(12)

Discount: 30%

(175)

Discount: 25%

(273)

Discount: 20%

(300)

Discount: 15%

(183)

Discount: 10%

(15)

All Options
Hide Options
Reviews
5 stars

(2755)

4 stars

(78)

3 stars

(6)

2 stars

(1)

1 stars

(2)

All Options
Hide Options
Stock
Not available

(622)

In Stock

(4720)

Coming soon

(24)

All Options
Hide Options
Year
2023

(555)

2022

(770)

2021

(1128)

2020

(550)

2019

(303)

2018

(181)

2017

(116)

2016

(89)

2015

(70)

2014

(38)

2013

(62)

2012

(64)

2011

(52)

2010

(156)

2009

(94)

2008

(70)

2007

(17)

2006

(37)

2005

(18)

2004

(66)

2003

(13)

2002

(24)

2001

(16)

2000

(31)

1999

(34)

1998

(19)

1997

(22)

1996

(24)

1995

(21)

1994

(8)

1993

(18)

1992

(13)

1991

(14)

1990

(19)

1989

(2)

1988

(8)

1987

(37)

1986

(5)

1985

(31)

1984

(34)

1983

(9)

1982

(8)

1981

(5)

1980

(61)

1979

(24)

1978

(50)

1977

(73)

1976

(36)

1973

(17)

1972

(33)

1971

(4)

1970

(10)

1967

(1)

1966

(3)

1964

(15)

1963

(26)

1962

(69)

1961

(42)

1959

(14)

1958

(2)

1957

(4)

1956

(2)

1954

(25)

All Options
Hide Options

Wednesday, 12 April 2023 13:34 |

Written by André de Goey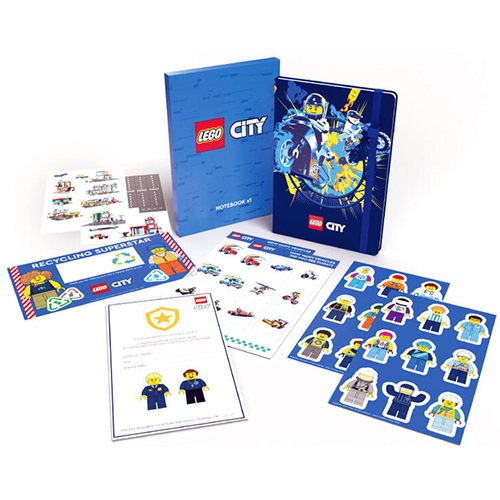 Buy a minimum of €69,99 on LEGO City products and get the LEGO City Notebook with a retail value of €14,99 for free! Only valid when listed in your shopping cart when placing your order. Max 1 per customer per order. Valid from April 17th 2023 until stock lasts.
This cool LEGO City notebook contains four sticker sheets, the police academy and the superstar recycling card. The elastic band that surrounds the notebook not only keeps it closed, but a minifigure can also be attached to it.
4 LEGO City sticker sheets

2 LEGO City vehicles counting cards


1 LEGO City Police academy acceptence letter

1 LEGO City Recycling Superstar card

Mega assortment


Wrapped with care


Quick shipment


Free products


Super Deals


Safe & Reliable


Click & Collect
Excellent customer service, despite delay still arrived in time for birthday. The Death Star is mega...would definitely recommend this company.
Livraison le surlendemain, prix très intéressant. Je recommande ce site et je passerai d'autres commandes.
From:
Guilhem Sedikki-Cuvier
Everything was very quick and professional. I will be back for my future Lego needs!
From:
Kasper Bundgaard Hammer
Unbelievable Service.. Ordered at 13:30 on Friday the 20th of November. Took Delivery in Ireland less than 24hrs later on Saturday the 21st of November 2020. Great Value too ;). Note: LEGO branding is on the outer packaging if little ones are not to know!!
As a first-time buyer, I was excited about how it would go, but it has been a really good experience. Fast delivery and great selection. I will definitely shop at BrickShop again.
From:
Morten Yde Søndergaard