Product Filter
Category
Sets

(1345)

LEGO Parts

(1513)

LEGO Clothing

(1486)

LEGO Books

(197)

LEGO Bags

(40)

Extras

(662)
LEGO Theme
(2325)

ART

(14)

Architecture

(13)

Avatar

(9)

Batman

(275)

Brick Sketches

(5)

Brickheadz

(39)

City

(321)

Classic

(298)

Creator

(65)

DC Super Heroes

(10)

DOTS

(52)

DREAMZzz

(11)

DUPLO

(102)

Disney

(67)

Friends

(151)

Gaby's Dollhouse

(4)

Harry Potter

(159)

House

(2)

Icons

(65)

Ideas

(36)

Indiana Jones

(3)

Jurassic World

(101)

LEGOLAND

(4)

Lord of the Rings

(1)

MARVEL

(96)

Mindstorms

(4)

Minecraft

(53)

Minifigures

(48)

Minions

(3)

Monkie Kid

(11)

Nexo Knights

(1)

Ninjago

(526)

Power Functions

(5)

Powered UP

(13)

SPIKE™ Prime

(2)

Serious Play

(4)

Sonic

(5)

Speed Champions

(34)

Star Wars

(117)

Super Mario

(59)

Technic

(64)

The LEGO Movie 2

(1)

Vidiyo

(14)

xtra

(3)

More
Less
Price
Under €5

(837)

Under €10

(1865)

Under €20

(3477)

Under €30

(4322)

Under €40

(4600)

Under €50

(4723)

Under €100

(4989)

Under €200

(5154)

Under €1000

(5238)

More
Less
Brand
LEGO

(3668)

LEGO Education

(11)

LEGOwear

(1486)

BRICKshop

(13)

Duracell

(4)

Hubelino

(35)

Varta

(11)

LEGO IKEA

(4)

Other manufacturers

(9)

More
Less
Age
from 1 years

(3)

from 1½ years

(59)

from 2 years

(95)

from 3 years

(274)

from 4 years

(2001)

from 5 years

(478)

from 6 years

(852)

from 7 years

(373)

from 8 years

(362)

from 9 years

(255)

from 10 years

(215)

from 11 years

(11)

from 12 years

(30)

from 14 years

(7)

from 15 years

(1)

from 16 years

(31)

from 18 years

(151)

More
Less
Gender
Boy

(1682)

Girl

(406)

Boy/Girl

(1545)
Special
Special day
Brith Day

(24)

Christmas

(49)

Easter

(8)

Halloween

(20)

Marriage

(1)

Mothers Day

(11)

New Year

(11)

Summer Deals

(1)

Thanksgiving

(1)

Valentine

(4)

All Options
Hide Options
Discount
Discount: 100%

(4)

Discount: 80%

(6)

Discount: 75%

(3)

Discount: 70%

(1)

Discount: 60%

(2)

Discount: 51%

(17)

Discount: 50%

(415)

Discount: 49%

(6)

Discount: 40%

(10)

Discount: 34%

(1)

Discount: 30%

(105)

Discount: 25%

(291)

Discount: 20%

(370)

Discount: 15%

(204)

Discount: 10%

(32)

All Options
Hide Options
Reviews
5 stars

(2695)

4 stars

(71)

3 stars

(5)

1 stars

(3)

All Options
Hide Options
Stock
Not available

(454)

In Stock

(4785)

Coming soon

(4)

All Options
Hide Options
Year
2023

(885)

2022

(754)

2021

(1064)

2020

(506)

2019

(278)

2018

(171)

2017

(106)

2016

(80)

2015

(69)

2014

(30)

2013

(58)

2012

(57)

2011

(49)

2010

(140)

2009

(84)

2008

(50)

2007

(13)

2006

(33)

2005

(28)

2004

(47)

2003

(12)

2002

(21)

2001

(12)

2000

(25)

1999

(31)

1998

(19)

1997

(19)

1996

(24)

1995

(19)

1994

(7)

1993

(15)

1992

(11)

1991

(10)

1990

(16)

1989

(2)

1988

(7)

1987

(27)

1986

(5)

1985

(30)

1984

(21)

1983

(9)

1982

(8)

1981

(3)

1980

(46)

1979

(17)

1978

(45)

1977

(53)

1976

(24)

1973

(12)

1972

(33)

1971

(4)

1970

(2)

1969

(1)

1967

(1)

1966

(3)

1964

(2)

1963

(20)

1962

(63)

1961

(20)

1959

(13)

1958

(1)

1957

(4)

1956

(1)

1954

(20)

All Options
Hide Options

Tuesday, 14 February 2023 14:47 |

Last Updated on Tuesday, 14 February 2023 15:56 |

Written by André de Goey
Buy a minimum of €79,99 on LEGO products and get the LEGO 40575 Year of the Rabbit with a retail value of €9,99 for free! Only valid when listed in your shopping cart when placing your order. Max 1 per customer per order. Valid from February 15th until March 31st or until stock lasts.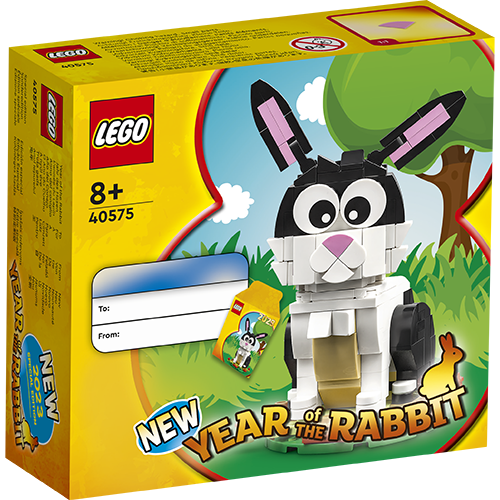 Celebrate Chinese New Year 2023 with this cute, buildable black and white bunny with big posable ears and rotating head. The rabbit stands on a platform with grass and flowers.

Mega assortment


Wrapped with care


Quick shipment


Free products


Super Deals


Safe & Reliable


Click & Collect
Package arrived promptly and was exactly what we wanted. The costume for my 7year old perfect, he's pretty thin but there was still a little room for growth. Awesome costume and good service! Thank you!
The order arrived just after a few days, and also with the payment I had no problem. The only thinh that the new LEGO-catalogue and the free present were a bit damaged, but maybe it happened because my order was so big. Wa I am very glad about the service, and I like also the price which is better than in a shop.
Order was processed and shipped within 2 days. Shipping updates were emailed. Superfast shipping for reasonable price. Very happy with customer service as well!
very good and quick respond and delivery, as the toy was overpriced on amazon or was sell out in different shops in UK i decide for brickshop.eu and choose DHL and found that price with delivery was even cheaper than price in other stores+ small gift to choose.
Good service, nice products at good price and fast shipping.... just a "but": the postage costs (a bit cheaper and you would achieve 6 stars :D ) Recommended
From:
Josefina Salgado Armesto