Product Filter
Category
Sets

(1286)

LEGO Parts

(586)

LEGO Clothing

(1773)

LEGO Books

(255)

LEGO Bags

(72)

Extras

(721)
LEGO Theme
ART

(4)

Architecture

(20)

Bionicle

(3)

Boost

(3)

Brick Sketches

(4)

Brickheadz

(24)

City

(181)

Classic

(142)

Creator

(75)

DC Batman

(41)

DC Comics Super Heroes

(40)

DOTS

(18)

DUPLO

(131)

Dimensions

(4)

Disney Princess

(31)

Elves

(11)

Fantastic Beasts

(2)

Friends

(519)

Ghostbusters

(1)

Harry Potter

(31)

Hidden Side

(24)

Ideas

(23)

Juniors

(4)

Jurassic World

(26)

Legends of Chima

(1)

Lord of the Rings

(1)

Marvel Avengers

(18)

Marvel Super Heroes

(30)

Mindstorms

(38)

Minecraft

(19)

Minifigures

(64)

Minions

(3)

Monkey Kid

(8)

Nexo Knights

(21)

Ninjago

(285)

Overwatch

(8)

Power Functions

(27)

Powered UP

(13)

Powerpuff Girls

(2)

Racers

(3)

SPIKE™ Prime

(10)

Serious Play

(6)

Speed Champions

(17)

Star Wars

(713)

Stranger Things

(1)

Super Mario

(17)

Technic

(66)

Teenage Mutant Ninja Turtles

(2)

The Batman Movie

(49)

The LEGO Movie 2

(60)

The Lone Ranger

(1)

Toy Story 4

(6)

Trolls

(8)

UniKitty

(7)

WeDo

(7)

xtra

(11)

More
Less
Price
Under €5

(672)

Under €10

(1262)

Under €20

(2830)

Under €30

(3813)

Under €40

(4127)

Under €50

(4233)

Under €100

(4492)

Under €200

(4621)

Under €1000

(4693)

More
Less
Brand
LEGO®

(2660)

LEGO® Education

(112)

LEGOwear

(1773)

BRICKshop

(11)

Disney

(1)

Duracell

(3)

FaBiox

(1)

GalaxyArms

(2)

Hubelino

(15)

LIGHT STAX

(1)

SBRICK

(4)

Varta

(12)

Other manufacturers

(94)

More
Less
Age
from 0½ years

(10)

from 1 years

(12)

from 1½ years

(35)

from 2 years

(83)

from 2½ years

(1)

from 3 years

(216)

from 4 years

(991)

from 5 years

(493)

from 6 years

(992)

from 7 years

(457)

from 8 years

(343)

from 9 years

(208)

from 10 years

(260)

from 11 years

(110)

from 12 years

(97)

from 13 years

(1)

from 14 years

(6)

from 16 years

(42)

from 18 years

(15)

More
Less
Gender
Boy

(1978)

Girl

(674)

Boy/Girl

(1127)
Special
Special day
Black Friday

(3)

Brith Day

(35)

Christmas

(44)

Easter

(10)

Fathers Day

(6)

Halloween

(18)

Marrige

(4)

Mothers Day

(6)

New Year

(8)

Sinterklaas

(2)

Thanksgiving

(2)

Valentine

(5)

All Options
Hide Options
Discount
Discount: 90%

(3)

Discount: 80%

(15)

Discount: 75%

(2)

Discount: 60%

(2)

Discount: 51%

(3)

Discount: 50%

(218)

Discount: 40%

(415)

Discount: 33%

(1)

Discount: 30%

(43)

Discount: 25%

(71)

Discount: 20%

(265)

Discount: 17%

(1)

Discount: 15%

(229)

Discount: 10%

(57)

All Options
Hide Options
Reviews
5 stars

(2119)

4 stars

(351)

3 stars

(26)

2 stars

(5)

1 stars

(2)

All Options
Hide Options
Stock
Not available

(1144)

In Stock

(3537)

Coming soon

(16)

All Options
Hide Options
Year
2020

(689)

2019

(722)

2018

(487)

2017

(429)

2016

(453)

2015

(419)

2014

(66)

2013

(188)

2012

(77)

2011

(52)

2010

(122)

2009

(43)

2008

(38)

2007

(13)

2006

(19)

2005

(6)

2004

(17)

2003

(6)

2002

(6)

2001

(5)

2000

(15)

1999

(15)

1998

(21)

1997

(13)

1996

(6)

1995

(11)

1994

(4)

1993

(10)

1992

(9)

1991

(4)

1990

(10)

1989

(7)

1988

(6)

1987

(10)

1986

(3)

1985

(24)

1984

(11)

1983

(5)

1982

(8)

1981

(2)

1980

(23)

1979

(10)

1978

(46)

1977

(19)

1976

(5)

1973

(8)

1972

(6)

1971

(2)

1970

(4)

1967

(4)

1966

(1)

1964

(5)

1962

(44)

1961

(3)

1959

(6)

1958

(1)

1957

(1)

1954

(6)

All Options
Hide Options

Tuesday, 22 January 2013 14:24 |

Last Updated on Tuesday, 22 January 2013 15:08 |

Written by A. de Goeij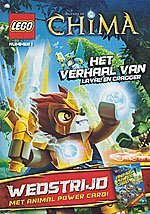 Vanaf 23 januari wordt bij iedere order een gratis boekje van LEGO Legends of Chima meegeleverd. Dit boekje bevat naast een leuk verhaal over Laval en Cragger veel informatie en een wedstrijdformulier met Animal Power Card.
Bestelt u iets van LEGO Legends of Chima vergeet dan ook niet de GRATIS poster mee te bestellen. De acties lopen zolang de voorraad strekt.
Nieuw is ook de LEGO Legends of Chima accessoires Pack!
Klik hier voor om de GRATIS poster aan uw winkelmandje toe te voegen.