Product Filter
Category
Sets

(1435)

LEGO Parts

(594)

LEGO Clothing

(1783)

LEGO Books

(280)

LEGO Bags

(53)

Extras

(686)
LEGO Theme
Architecture

(23)

Bionicle

(10)

Boost

(3)

Brickheadz

(25)

City

(247)

Classic

(142)

Creator

(96)

DC Batman

(24)

DC Comics Super Heroes

(44)

DOTS

(18)

DUPLO

(177)

Disney Princess

(39)

Elves

(11)

Fantastic Beasts

(2)

Friends

(531)

Ghostbusters

(1)

Harry Potter

(28)

Hidden Side

(19)

Ideas

(15)

Juniors

(3)

Jurassic World

(44)

Legends of Chima

(1)

Marvel Avengers

(14)

Marvel Super Heroes

(36)

Mindstorms

(40)

Minecraft

(22)

Minifigures

(79)

Minions

(3)

Monkey Kid

(8)

Nexo Knights

(25)

Ninjago

(354)

Overwatch

(9)

Power Functions

(28)

Powered UP

(10)

Powerpuff Girls

(2)

Racers

(7)

Serious Play

(6)

Speed Champions

(19)

Spike

(10)

Star Wars

(738)

Stranger Things

(1)

Super Mario

(2)

Technic

(67)

Teenage Mutant Ninja Turtles

(3)

The Batman Movie

(56)

The LEGO Movie 2

(70)

The Lone Ranger

(1)

The Simpsons

(1)

Toy Story 4

(6)

Trolls

(9)

UniKitty

(10)

WeDo

(7)

xtra

(13)

More
Less
Price
Under €5

(734)

Under €10

(1358)

Under €20

(2921)

Under €30

(3915)

Under €40

(4236)

Under €50

(4361)

Under €100

(4622)

Under €200

(4752)

Under €1000

(4829)

More
Less
Brand
LEGO

(2759)

LEGO Education

(123)

LEGOwear

(1783)

BRICKshop

(11)

Disney

(1)

Duracell

(3)

FaBiox

(2)

GalaxyArms

(6)

Hubelino

(14)

LIGHT STAX

(8)

SBRICK

(4)

Varta

(11)

Other manufacturers

(102)

More
Less
Age
from 0½ years

(11)

from 1 years

(13)

from 1½ years

(39)

from 2 years

(87)

from 2½ years

(1)

from 3 years

(197)

from 4 years

(1002)

from 5 years

(572)

from 6 years

(978)

from 7 years

(467)

from 8 years

(365)

from 9 years

(209)

from 10 years

(269)

from 11 years

(108)

from 12 years

(99)

from 13 years

(1)

from 14 years

(9)

from 16 years

(44)

from 18 years

(5)

More
Less
Gender
Boy

(2179)

Girl

(681)

Boy/Girl

(1024)
Special
Special day
Black Friday

(3)

Brith Day

(43)

Christmas

(44)

Easter

(10)

Fathers Day

(5)

Halloween

(12)

Marrige

(3)

Mothers Day

(5)

New Year

(9)

Sinterklaas

(2)

Thanksgiving

(2)

Valentine

(8)

All Options
Hide Options
Discount
Discount: 90%

(2)

Discount: 80%

(14)

Discount: 70%

(4)

Discount: 60%

(1)

Discount: 51%

(2)

Discount: 50%

(237)

Discount: 40%

(453)

Discount: 38%

(1)

Discount: 30%

(45)

Discount: 25%

(56)

Discount: 20%

(250)

Discount: 17%

(1)

Discount: 15%

(230)

Discount: 10%

(46)

All Options
Hide Options
Reviews
5 stars

(2085)

4 stars

(454)

3 stars

(36)

2 stars

(7)

1 stars

(2)

All Options
Hide Options
Stock
Not available

(1557)

In Stock

(3259)

Coming soon

(7)

Preorder

(12)

All Options
Hide Options
Year
2020

(436)

2019

(761)

2018

(599)

2017

(540)

2016

(485)

2015

(437)

2014

(77)

2013

(195)

2012

(87)

2011

(55)

2010

(126)

2009

(48)

2008

(39)

2007

(14)

2006

(15)

2005

(5)

2004

(17)

2003

(6)

2002

(6)

2001

(5)

2000

(21)

1999

(15)

1998

(22)

1997

(11)

1996

(7)

1995

(11)

1994

(4)

1993

(9)

1992

(12)

1991

(4)

1990

(8)

1989

(4)

1988

(6)

1987

(11)

1986

(3)

1985

(26)

1984

(13)

1983

(4)

1982

(7)

1981

(1)

1980

(28)

1979

(15)

1978

(43)

1977

(17)

1976

(5)

1973

(9)

1972

(3)

1971

(6)

1970

(3)

1967

(4)

1966

(1)

1964

(7)

1962

(42)

1961

(4)

1959

(5)

1958

(1)

1954

(11)

All Options
Hide Options

Wednesday, 29 January 2014 14:05 |

Last Updated on Friday, 02 January 2015 11:44 |

Written by A. de Goeij
Maak een reis door de tijd met deze te gekke DeLorean Tijdmachine uit de bekende films Back to the Future deel 1, 2 en 3!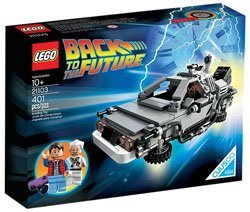 LEGO 21103 The DeLorean Time MachineBack to the Future is een sciencefiction-filmtrilogie van Robert Zemeckis, naar het script van Zemeckis en Bob Gale. De hoofdrollen worden vervuld door Michael J. Fox en Christopher Lloyd. De eerste film werd uitgebracht in 1985 en nadat deze een succes bleek, werden deel twee en drie gemaakt en uitgebracht in respectievelijk 1989 en 1990. In de films staat het thema "tijdreizen" en de gevolgen hiervan centraal. Hoofdpersonages in de films zijn Marty McFly en Dr. Emmett Brown. Het succes van de films leidde tot een spin-off in de vorm van een animatieserie. Daarnaast verscheen in het pretpark Universal Studios de attractie Back to the Future: The Ride. Een DeLorean DMC-12 werd in Back to the Future als tijdmachine gebruikt.
De LEGO 21103 DeLorean kan worden omgebouwd tot verschillende versies, zoals ook in de films het geval is. Een super leuke "EXCLUSIVE", uitgebracht in de serie LEGO Cuussoo, die je zeker niet in alle winkels vindt, maar natuurlijk wel bij brickshop.nl! De set zal vanaf morgen ook in onze winkel te Gorinchem verkrijgbaar zijn.