Enkele dagen geleden ging Joni met een Feature in op de film Thor: The Dark World. De populariteit van deze film werd deels gevoed door The Avengers en het mag geen verrassing heten dat ook de game-industrie graag inspringt op dit succes, getuige ook de komst van LEGO Marvel Super Heroes.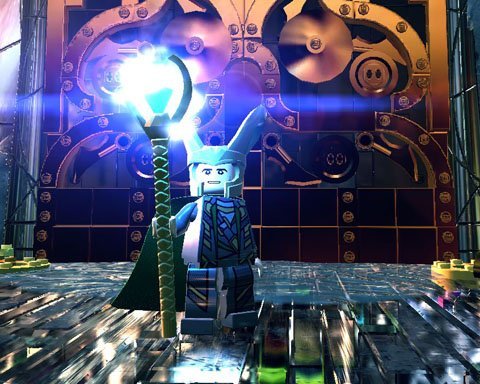 Nadat ontwikkelaar Traveller's Tales eerder al de superhelden van DC Comics liet schitteren in hun eigen LEGO game is het ditmaal de beurt aan de Marvel namen om een hoofdrol op te eisen. Dat ze dit bepaald niet lichtzinnig aan hebben gepakt, blijkt uit de enorme lijst personages die 155 namen beslaat, met hierin naast bekende namen als Iron Man, Wolverine, The Hulk en Thor ook ruimte voor onbekendere en tevens verrassende namen als Stan Lee, Ms. Marvel en Blade. Ieder van deze namen heeft zijn eigen karakteristieke aanvallen en specialismen, hetgeen de variatie niet alleen in namen, maar tevens in gameplay groot maakt. De verhaallijn speelt hier handig op in door je steeds weer met andere karakters te laten spelen, terwijl de locaties vooral voor de fans een feest van herkenning zijn.
We beleven deze verhaallijn vanuit New York, de stad die dient als HUB van waaruit we de avonturen benaderen. De enorme stad bestaat eveneens uit vele bekende locaties en herbergt vele geheimen om je uren, maar dan ook echt uren in zoet te laten zijn. De opzet van de game is niet anders dan voorheen, hetgeen zowel positief als negatief opgevat kan worden. Het verzamelen van muntjes, het ontdekken van geheimen en vergaren van Golden Bricks om zodoende weer extra geheimen te ontrafelen; het keert in iedere LEGO titel terug en verveelt nooit. Deze vastigheid voeren ze echter ook door in de met momenten onduidelijke camerastandpunten, het gebrek aan online coöperatieve gameplay en controls (met name bij het besturen van vliegtuigen) die niet altijd even goed werken. Ook dit zijn terugkerende elementen waar ze weleens wat meer aandacht op mogen vestigen.
Toch staan bovenstaande factoren de fun-factor nergens in de weg. Daar waar de film The Avengers al de nodige dosis humor had om de actiescènes mee te onderbreken, gooit de game hier nog een schepje bovenop. Het zorgt voor vele grappige conversaties die doordrenkt zijn met verwijzingen naar zowel de comics als de films. Dit beleef je overigens niet alleen in de verhaallijn zelf, waar je makkelijk vijftien uur in kwijt kunt, maar tevens in de bonuslevels die je rijkelijk toebedeeld worden. Aan content dan ook geen gebrek, zelfs na vele uren spelen loop je nog altijd tegen verrassingen aan die je met een grootse glimlach zult ontvangen.
Het is misschien onnodig om te zeggen, maar wanneer je eerdere LEGO titels niet kon waarderen gaat LEGO Marvel Super Heroes hier geen verandering in brengen. De ontwikkelaar heeft zeker niet getracht het wiel opnieuw uit te vinden, zo is de gameplay nagenoeg hetzelfde als in voorgaande delen. Voor de fans zal dit als muziek in de oren klinken. Geheel nieuwe locaties, een overcompleet Marvel roster en zeer verzorgde stemmen en muziek, alles is aanwezig om een groot deel van je vrije tijd op te slokken. De kritische recensent in me moet hier wel aan toevoegen dat er qua gameplay misschien wel iets teveel wordt hergebruikt, hetgeen grotendeels toe te schrijven is aan het hergebruik van de engine. Laat dit je bij interesse echter niet weerhouden om deze titel aan te schaffen.