Product Filter
Category
Sets

(1419)

LEGO Parts

(593)

LEGO Clothing

(1783)

LEGO Books

(280)

LEGO Bags

(53)

Extras

(741)
LEGO Theme
Architecture

(23)

Bionicle

(10)

Boost

(3)

Brickheadz

(25)

City

(246)

Classic

(148)

Creator

(94)

DC Batman

(26)

DC Comics Super Heroes

(48)

DOTS

(18)

DUPLO

(151)

Disney Princess

(39)

Elves

(11)

Fantastic Beasts

(2)

Friends

(531)

Ghostbusters

(1)

Harry Potter

(28)

Hidden Side

(19)

Ideas

(15)

Juniors

(3)

Jurassic World

(44)

Legends of Chima

(1)

Marvel Avengers

(14)

Marvel Super Heroes

(36)

Mindstorms

(40)

Minecraft

(22)

Minifigures

(77)

Minions

(3)

Monkey Kid

(8)

Nexo Knights

(25)

Ninjago

(347)

Overwatch

(9)

Power Functions

(28)

Powered UP

(10)

Powerpuff Girls

(2)

Racers

(7)

Serious Play

(6)

Speed Champions

(19)

Spike

(10)

Star Wars

(748)

Stranger Things

(1)

Super Mario

(2)

Technic

(63)

Teenage Mutant Ninja Turtles

(2)

The Batman Movie

(56)

The LEGO Movie 2

(70)

The Lone Ranger

(1)

The Simpsons

(1)

Toy Story 4

(6)

Trolls

(9)

UniKitty

(10)

WeDo

(7)

xtra

(13)

More
Less
Price
Under €5

(734)

Under €10

(1385)

Under €20

(2966)

Under €30

(3962)

Under €40

(4284)

Under €50

(4408)

Under €100

(4662)

Under €200

(4790)

Under €1000

(4867)

More
Less
Brand
LEGO

(2797)

LEGO Education

(123)

LEGOwear

(1783)

BRICKshop

(11)

Disney

(1)

Duracell

(3)

FaBiox

(2)

GalaxyArms

(6)

Hubelino

(14)

LIGHT STAX

(8)

SBRICK

(4)

Varta

(11)

Other manufacturers

(102)

More
Less
Age
from 0½ years

(11)

from 1 years

(13)

from 1½ years

(39)

from 2 years

(87)

from 2½ years

(1)

from 3 years

(198)

from 4 years

(1002)

from 5 years

(575)

from 6 years

(1028)

from 7 years

(463)

from 8 years

(357)

from 9 years

(205)

from 10 years

(269)

from 11 years

(108)

from 12 years

(99)

from 13 years

(1)

from 14 years

(9)

from 16 years

(44)

from 18 years

(5)

More
Less
Gender
Boy

(2184)

Girl

(681)

Boy/Girl

(1058)
Special
Special day
Black Friday

(3)

Brith Day

(43)

Christmas

(44)

Easter

(10)

Fathers Day

(5)

Halloween

(17)

Marrige

(3)

Mothers Day

(5)

New Year

(9)

Sinterklaas

(2)

Thanksgiving

(2)

Valentine

(8)

All Options
Hide Options
Discount
Discount: 90%

(2)

Discount: 80%

(15)

Discount: 70%

(4)

Discount: 60%

(1)

Discount: 51%

(2)

Discount: 50%

(238)

Discount: 40%

(453)

Discount: 38%

(1)

Discount: 30%

(45)

Discount: 25%

(72)

Discount: 20%

(260)

Discount: 17%

(1)

Discount: 15%

(235)

Discount: 10%

(47)

All Options
Hide Options
Reviews
5 stars

(2129)

4 stars

(458)

3 stars

(34)

2 stars

(8)

1 stars

(2)

All Options
Hide Options
Stock
Not available

(1588)

In Stock

(3245)

Coming soon

(6)

Preorder

(34)

All Options
Hide Options
Year
2020

(440)

2019

(800)

2018

(594)

2017

(538)

2016

(486)

2015

(437)

2014

(77)

2013

(195)

2012

(88)

2011

(56)

2010

(126)

2009

(48)

2008

(39)

2007

(14)

2006

(15)

2005

(5)

2004

(16)

2003

(6)

2002

(6)

2001

(5)

2000

(21)

1999

(15)

1998

(22)

1997

(11)

1996

(7)

1995

(11)

1994

(4)

1993

(9)

1992

(12)

1991

(4)

1990

(8)

1989

(4)

1988

(6)

1987

(11)

1986

(3)

1985

(26)

1984

(13)

1983

(4)

1982

(7)

1981

(1)

1980

(28)

1979

(15)

1978

(43)

1977

(17)

1976

(5)

1973

(9)

1972

(3)

1971

(5)

1970

(4)

1967

(4)

1966

(1)

1964

(7)

1962

(42)

1961

(4)

1959

(5)

1958

(1)

1954

(11)

All Options
Hide Options

Tuesday, 25 February 2014 04:04 |

Last Updated on Friday, 02 January 2015 11:43 |

Written by A. de Goeij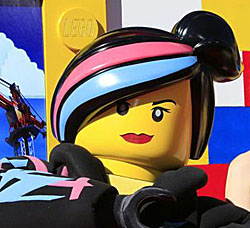 Wildstyle uit LEGO The MovieVoor het derde weekend op rij heeft The LEGO Movie de meeste Amerikanen naar de bioscoop getrokken. De 3D-speelgoedfilm wist met een opbrengst van 31,5 miljoen dollar (zo'n 23 miljoen euro) twee debuterende films achter zich te houden.
The LEGO Movie (in Nederland bekend als De LEGO Film) is samen met Ride Along de tweede film dit jaar die drie weken op rij de lijst aanvoerd. Tot dusver heeft de film met de beroemde gekleurde kunststofblokjes in de VS alleen al 183,2 miljoen dollar verdiend.
Ga jij ook naar de LEGO film? Bewaar dan je bioscoopkaartje, want deze is geld waard. Lees hier meer over deze actie.