Op zaterdag 17 mei 2014 wordt het wel heel gezellig in de stad. Er zijn de gehele dag Drakenbootraces in de Lingehaven, in de stad lopen diverse (show-)bands én op deze dag is er Open Havendag. BRICKshop zorgt op deze dag voor een groots LEGO bouwspektakel voor kinderen. Kom je ook?
LEGO bouwen Buiten de Waterpoort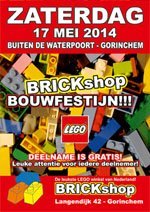 BRICKshop zorgt voor een bouwfestijn met LEGO voor kinderen tussen 5 en 12 jaar. Kinderen krijgen de kans om hun mooiste boot te bouwen.
Héél véél LEGO steentjes zullen worden uitgestort, zodat alle bouwertjes naar hartelust er op los kunnen bouwen!
Alle deelnemers mogen een leuke attentie afhalen in onze LEGO winkel aan de Langendijk! De winkel is die dag natuurlijk geopend voor verkoop van LEGO en DUPLO.
Locatie: Buiten de Waterpoort (Gorinchem).
Open Havendag 2014
De Koninklijke Marine komt met 2 schepen, een duiktank, klimtoren en nog veel meer!!!
De TLO race met de bruine vloot: zeg maar veel teer, lijnolie en oude klare (in willekeurige volgorde).
Mosselen eten, paling, langs de kramen struinen op zoek naar scheepstouw of een mooi oud olielampje.
Kunst in de Sluis, een bijzondere open lucht tentenstelling in de sluis!. Om 11 uur de opening.
Leerlingen van Merewade maken kunstwerken met een Koninklijke thema op de verjaardag van Maxima: Kronen.
Gorinchem beweegt met veel sportieve verenigingen in het kielzog, test uw conditie met de bootcamp of sla een tennisballetje.
Stoomboot met rondvaarten in de middag en een de hele dag een kraam met informatie en activiteiten rond Jan de Sterke.
HET EGHTE MUZIEKFESTIJN OP HET PLEIN!
Het begon allemaal in 2009. In een veel te lichte, veel te grote huiskamer op een veel te rode, grote, leren bank. De eerste hersenspinsels van het Muziekfestijn op het plein werden gedeeld.
Voorzichtig werd er een opzet bedacht voor podia, invulling van bands, sponsoren, naam evenement en vrijwilligers. Een datum….en " 't Eghte Muziekfestijn op het plein" was geboren.
't Eght plein festijn. Heden.
Bands die het Muziekfestijn op het plein hebben meegemaakt, wachten niet meer op een uitnodiging, zij bellen dat ze graag weer mee doen. Vrijwilligers melden zich vrij-ge-willig aan. Sponsoren bedenken acties om nog groter uit te pakken. En ook de horeca van de binnenstad in Gorinchem wil graag een podium voor zijn deur. Kortom, editie 6 - 2014 van 't Eghte Muziekfestijn op het plein' mag je gewoon niet missen. Het ghezellighste pleinfestijn komt er weer aan.
5 Podia in het altijd gezellige stadscentrum van Gorinchem, en zelfs een varend podium !
20 tot 25 uiterst ghezellighe feestbands.
Een altijd ghezellighe ontvangst.
Een Eghte ghezellighe begeleider, wellicht wel 2
Een aantal natjes, maar ook de traditionele droogjes (ghezelligh.)
Geen wedstrijd, de ghezellighheid staat voorop, iedereen wordt 1e.
Een fantastische bewaakte ruimte voor al jullie spullen.
Veel ghezelligh publiek (c.a. 20.000 bezoekers) i.v.m. combinatie met de Open Havendag.
Voldoende parkeergelegenheid.
Het genoegen 3 / 4 keer op te mogen treden op verschillende podia.
Een heus aandenken aan deze ghezellighste dag.
Zijn jullie erbij?
Wij zouden zeggen: Natuurlijk!!! De podiumplaatsen zijn ondertussen vergeven. Met al 24 deelnemende bands zijn we MAXIMA(AL) gevuld....maar niet heus! Ook de reservebank geeft nog plaats.... Gorinchem heeft meer ruimte om rond het podium te spelen, dus neem contact op via pleinfestijn@eghtherrie.nl.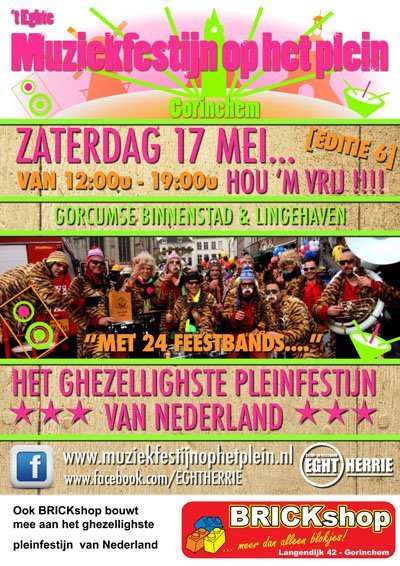 DRAKENBOOTRACE
De gehele dag zijn er drakenbootraces in de Lingehaven van Gorinchem! Alweer voor de negende keer wordt dit spectakel gehouden!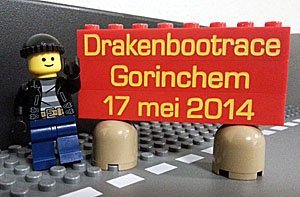 Meer informatie is te vinden op de onderstaande websites: