Product Filter
Category
Sets

(1457)

LEGO Parts

(583)

LEGO Clothing

(1655)

LEGO Books

(281)

LEGO Bags

(64)

Extras

(732)
LEGO Theme
Architecture

(23)

Bionicle

(9)

Boost

(3)

Brickheadz

(25)

City

(251)

Classic

(145)

Creator

(95)

DC Batman

(24)

DC Comics Super Heroes

(46)

DOTS

(18)

DUPLO

(149)

Dimensions

(4)

Disney Princess

(30)

Elves

(11)

Fantastic Beasts

(2)

Friends

(530)

Ghostbusters

(1)

Harry Potter

(30)

Hidden Side

(27)

Ideas

(15)

Juniors

(3)

Jurassic World

(27)

Legends of Chima

(1)

Marvel Avengers

(18)

Marvel Super Heroes

(35)

Mindstorms

(40)

Minecraft

(22)

Minifigures

(76)

Minions

(3)

Monkey Kid

(8)

Nexo Knights

(25)

Ninjago

(310)

Overwatch

(9)

Power Functions

(27)

Powered UP

(13)

Powerpuff Girls

(2)

Racers

(7)

SPIKE™ Prime

(10)

Serious Play

(6)

Speed Champions

(19)

Star Wars

(741)

Stranger Things

(1)

Super Mario

(17)

Technic

(66)

Teenage Mutant Ninja Turtles

(2)

The Batman Movie

(51)

The LEGO Movie 2

(68)

The Lone Ranger

(1)

The Simpsons

(1)

Toy Story 4

(6)

Trolls

(8)

UniKitty

(9)

WeDo

(7)

xtra

(11)

More
Less
Price
Under €5

(726)

Under €10

(1370)

Under €20

(2863)

Under €30

(3843)

Under €40

(4169)

Under €50

(4292)

Under €100

(4563)

Under €200

(4691)

Under €1000

(4771)

More
Less
Brand
LEGO®

(2843)

LEGO® Education

(115)

LEGOwear

(1655)

BRICKshop

(11)

Disney

(1)

Duracell

(3)

FaBiox

(1)

GalaxyArms

(6)

Hubelino

(14)

LIGHT STAX

(1)

SBRICK

(4)

Varta

(12)

Other manufacturers

(102)

More
Less
Age
from 0½ years

(11)

from 1 years

(13)

from 1½ years

(39)

from 2 years

(85)

from 2½ years

(1)

from 3 years

(197)

from 4 years

(984)

from 5 years

(558)

from 6 years

(1029)

from 7 years

(464)

from 8 years

(351)

from 9 years

(197)

from 10 years

(252)

from 11 years

(104)

from 12 years

(95)

from 13 years

(1)

from 14 years

(9)

from 16 years

(45)

from 18 years

(8)

More
Less
Gender
Boy

(2088)

Girl

(670)

Boy/Girl

(1074)
Special
Special day
Black Friday

(3)

Brith Day

(43)

Christmas

(44)

Easter

(11)

Fathers Day

(5)

Halloween

(16)

Marrige

(3)

Mothers Day

(5)

New Year

(7)

Sinterklaas

(2)

Thanksgiving

(2)

Valentine

(7)

All Options
Hide Options
Discount
Discount: 90%

(2)

Discount: 80%

(17)

Discount: 75%

(2)

Discount: 70%

(4)

Discount: 60%

(1)

Discount: 51%

(3)

Discount: 50%

(238)

Discount: 40%

(417)

Discount: 33%

(1)

Discount: 30%

(44)

Discount: 25%

(76)

Discount: 20%

(270)

Discount: 17%

(1)

Discount: 15%

(237)

Discount: 10%

(60)

All Options
Hide Options
Reviews
5 stars

(2200)

4 stars

(401)

3 stars

(30)

2 stars

(8)

1 stars

(2)

All Options
Hide Options
Stock
Not available

(1426)

In Stock

(3260)

Coming soon

(42)

Preorder

(48)

All Options
Hide Options
Year
2020

(515)

2019

(750)

2018

(570)

2017

(489)

2016

(476)

2015

(432)

2014

(76)

2013

(192)

2012

(87)

2011

(57)

2010

(128)

2009

(47)

2008

(39)

2007

(14)

2006

(17)

2005

(5)

2004

(16)

2003

(7)

2002

(6)

2001

(5)

2000

(21)

1999

(15)

1998

(21)

1997

(12)

1996

(7)

1995

(11)

1994

(4)

1993

(10)

1992

(11)

1991

(4)

1990

(8)

1989

(3)

1988

(5)

1987

(11)

1986

(3)

1985

(26)

1984

(12)

1983

(4)

1982

(7)

1981

(1)

1980

(20)

1979

(12)

1978

(45)

1977

(18)

1976

(5)

1973

(8)

1972

(3)

1971

(2)

1970

(5)

1967

(4)

1966

(1)

1964

(7)

1962

(40)

1961

(4)

1959

(6)

1958

(1)

1954

(12)

All Options
Hide Options

Friday, 31 May 2013 12:31 |

Last Updated on Friday, 02 January 2015 11:47 |

Written by A. de Goeij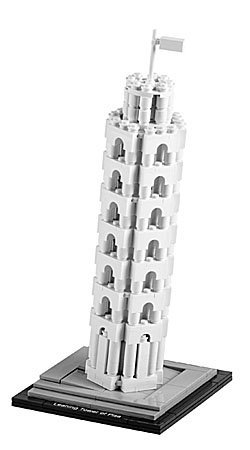 LEGO 21015 The Leaning Tower of PisaDe allernieuwste set uit de serie LEGO Architecture kwam afgelopen week binnen bij BRICKshop en daarmee is www.brickshop.eu de eerste shop waar deze set verkrijgbaar is! Het model, de Toren van Pisa (setnummer 21015), is wederom ontworpen door Adam Reed Tucker. De set bestaat uit 345 stukjes.
De Toren van Pisa is de vrijstaande klokkentoren (een campanile) bij de kathedraal van Pisa (Duomo di Pisa). De toren is een van de onderdelen van de Piazza dei Miracoli. Bouwmeesters waren Gugilmo en Buonanno.
Nu verkrijgbaar als prachtige LEGO Architecture model, The Leaning Tower of Pisa!

Andere modellen die deze toren voorgingen zijn bijvoorbeeld het Imperial Hotel, Vila Savoy en het Guggenheim Museum.
Klik hier voor een overzicht van alle beschikbare LEGO Architecture modellen.