Product Filter
Category
Sets

(1435)

LEGO Parts

(594)

LEGO Clothing

(1783)

LEGO Books

(281)

LEGO Bags

(53)

Extras

(674)
LEGO Theme
Architecture

(23)

Bionicle

(10)

Boost

(3)

Brickheadz

(25)

City

(247)

Classic

(142)

Creator

(96)

DC Batman

(24)

DC Comics Super Heroes

(42)

DOTS

(18)

DUPLO

(177)

Disney Princess

(39)

Elves

(11)

Fantastic Beasts

(2)

Friends

(530)

Ghostbusters

(1)

Harry Potter

(28)

Hidden Side

(19)

Ideas

(17)

Juniors

(3)

Jurassic World

(44)

Legends of Chima

(1)

Marvel Avengers

(14)

Marvel Super Heroes

(36)

Mindstorms

(40)

Minecraft

(22)

Minifigures

(79)

Minions

(3)

Nexo Knights

(25)

Ninjago

(354)

Overwatch

(9)

Power Functions

(28)

Powered UP

(10)

Powerpuff Girls

(2)

Racers

(7)

Serious Play

(6)

Speed Champions

(19)

Spike

(10)

Star Wars

(741)

Stranger Things

(1)

Super Mario

(2)

Technic

(67)

Teenage Mutant Ninja Turtles

(3)

The Batman Movie

(56)

The LEGO Movie 2

(60)

The Lone Ranger

(1)

The Simpsons

(1)

Toy Story 4

(6)

Trolls

(9)

UniKitty

(10)

WeDo

(7)

xtra

(13)

More
Less
Price
Under €5

(734)

Under €10

(1360)

Under €20

(2910)

Under €30

(3903)

Under €40

(4228)

Under €50

(4347)

Under €100

(4607)

Under €200

(4741)

Under €1000

(4818)

More
Less
Brand
LEGO

(2746)

LEGO Education

(123)

LEGOwear

(1783)

BRICKshop

(11)

Disney

(1)

Duracell

(3)

FaBiox

(2)

GalaxyArms

(6)

Hubelino

(14)

LIGHT STAX

(8)

SBRICK

(4)

Varta

(11)

Other manufacturers

(104)

More
Less
Age
from 0½ years

(11)

from 1 years

(13)

from 1½ years

(39)

from 2 years

(87)

from 2½ years

(1)

from 3 years

(197)

from 4 years

(1002)

from 5 years

(572)

from 6 years

(966)

from 7 years

(465)

from 8 years

(365)

from 9 years

(209)

from 10 years

(272)

from 11 years

(108)

from 12 years

(99)

from 13 years

(1)

from 14 years

(9)

from 16 years

(44)

from 18 years

(5)

More
Less
Gender
Boy

(2178)

Girl

(680)

Boy/Girl

(1015)
Special
Special day
Black Friday

(3)

Brith Day

(44)

Christmas

(44)

Easter

(10)

Fathers Day

(5)

Halloween

(12)

Marrige

(3)

Mothers Day

(5)

New Year

(9)

Sinterklaas

(2)

Thanksgiving

(2)

Valentine

(8)

All Options
Hide Options
Discount
Discount: 90%

(2)

Discount: 80%

(14)

Discount: 70%

(4)

Discount: 60%

(1)

Discount: 51%

(2)

Discount: 50%

(236)

Discount: 40%

(453)

Discount: 38%

(1)

Discount: 30%

(46)

Discount: 25%

(66)

Discount: 20%

(250)

Discount: 17%

(1)

Discount: 15%

(196)

Discount: 10%

(46)

All Options
Hide Options
Reviews
5 stars

(2079)

4 stars

(458)

3 stars

(37)

2 stars

(8)

1 stars

(2)

All Options
Hide Options
Stock
Not available

(1547)

In Stock

(3189)

Coming soon

(65)

Preorder

(23)

All Options
Hide Options
Year
2020

(434)

2019

(747)

2018

(598)

2017

(540)

2016

(484)

2015

(440)

2014

(79)

2013

(197)

2012

(87)

2011

(55)

2010

(126)

2009

(48)

2008

(39)

2007

(14)

2006

(16)

2005

(4)

2004

(17)

2003

(6)

2002

(6)

2001

(5)

2000

(21)

1999

(15)

1998

(22)

1997

(11)

1996

(7)

1995

(11)

1994

(4)

1993

(9)

1992

(12)

1991

(4)

1990

(8)

1989

(4)

1988

(6)

1987

(11)

1986

(3)

1985

(26)

1984

(13)

1983

(4)

1982

(7)

1981

(1)

1980

(28)

1979

(15)

1978

(43)

1977

(17)

1976

(5)

1973

(9)

1972

(3)

1971

(6)

1970

(3)

1967

(4)

1966

(1)

1964

(7)

1962

(42)

1961

(4)

1959

(5)

1958

(1)

1954

(11)

All Options
Hide Options

Thursday, 06 March 2014 14:35 |

Last Updated on Tuesday, 04 August 2015 11:16 |

Written by André de Goey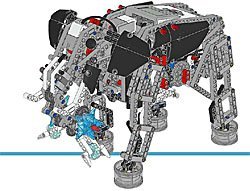 Many customers inquire how to use their LEGO Mindstorms to build an elephant. This is possible with the educational standard set 45544 and the extension set 45560.
We will investigate shortly whether the elephant can also be built using a combination of the extension set and the consumer's version of the standard set, 31313.
A little bit later in the year, we will organise a LEGO Minstorm demonstration/workshop in our store to make you acquainted with this exciting and informative type of LEGO. Subscribe to our news letter if you are interested in this event and would like to receive updates about its proceedings.
LEGO Eduaction initially caters for schools and foundations, but can be informative at home, too!
Click here to download the pdf-version of the blueprint.