Product Filter
Category
Sets

(1223)

LEGO Parts

(1610)

LEGO Clothing

(1396)

LEGO Books

(236)

LEGO Bags

(57)

Extras

(662)
LEGO Theme
(2427)

ART

(12)

Architecture

(13)

Avatar

(9)

BricQ

(1)

Brick Sketches

(7)

Brickheadz

(24)

City

(314)

Classic

(336)

Creator

(62)

DC Batman

(270)

DC Super Heroes

(13)

DOTS

(61)

DUPLO

(91)

Dimensions

(2)

Disney

(54)

Fantastic Beasts

(1)

Friends

(150)

Harry Potter

(121)

House

(2)

Icons

(57)

Ideas

(32)

Indiana Jones

(3)

Jurassic World

(107)

LEGOLAND

(6)

Lord of the Rings

(1)

MARVEL

(89)

Mindstorms

(7)

Minecraft

(46)

Minifigures

(49)

Minions

(4)

Monkie Kid

(8)

Nexo Knights

(1)

Ninjago

(467)

Power Functions

(7)

Powered UP

(13)

SPIKE™ Prime

(4)

Serious Play

(4)

Speed Champions

(38)

Star Wars

(129)

Super Mario

(53)

Technic

(64)

The LEGO Movie 2

(7)

Vidiyo

(14)

WeDo

(2)

xtra

(3)

More
Less
Price
Under €5

(842)

Under €10

(1924)

Under €20

(3581)

Under €30

(4365)

Under €40

(4606)

Under €50

(4732)

Under €100

(4956)

Under €200

(5099)

Under €1000

(5178)

More
Less
Brand
LEGO

(3681)

LEGO Education

(17)

LEGOwear

(1395)

BRICKshop

(12)

Duracell

(5)

Hubelino

(15)

Librero

(2)

SBRICK

(1)

Varta

(11)

LEGO IKEA

(4)

Other manufacturers

(37)

More
Less
Age
from 1 years

(3)

from 1½ years

(55)

from 2 years

(86)

from 3 years

(263)

from 4 years

(2073)

from 5 years

(459)

from 6 years

(876)

from 7 years

(363)

from 8 years

(343)

from 9 years

(232)

from 10 years

(188)

from 11 years

(12)

from 12 years

(27)

from 14 years

(5)

from 15 years

(3)

from 16 years

(31)

from 18 years

(122)

More
Less
Gender
Boy

(1749)

Girl

(419)

Boy/Girl

(1329)
Special
Special day
Brith Day

(19)

Christmas

(51)

Easter

(11)

Halloween

(21)

Mothers Day

(12)

New Year

(9)

Valentine

(3)

All Options
Hide Options
Discount
Discount: 100%

(4)

Discount: 90%

(2)

Discount: 80%

(4)

Discount: 75%

(1)

Discount: 70%

(2)

Discount: 60%

(2)

Discount: 51%

(12)

Discount: 50%

(491)

Discount: 49%

(6)

Discount: 40%

(16)

Discount: 33%

(197)

Discount: 30%

(251)

Discount: 25%

(101)

Discount: 20%

(200)

Discount: 15%

(140)

Discount: 10%

(10)

All Options
Hide Options
Reviews
5 stars

(2634)

4 stars

(74)

3 stars

(6)

2 stars

(2)

1 stars

(1)

All Options
Hide Options
Stock
Not available

(501)

In Stock

(4666)

Coming soon

(18)

All Options
Hide Options
Year
2023

(427)

2022

(771)

2021

(1172)

2020

(575)

2019

(310)

2018

(185)

2017

(116)

2016

(91)

2015

(74)

2014

(33)

2013

(65)

2012

(58)

2011

(43)

2010

(142)

2009

(86)

2008

(61)

2007

(16)

2006

(34)

2005

(13)

2004

(53)

2003

(10)

2002

(18)

2001

(14)

2000

(25)

1999

(33)

1998

(18)

1997

(17)

1996

(22)

1995

(22)

1994

(7)

1993

(16)

1992

(15)

1991

(14)

1990

(20)

1989

(3)

1988

(7)

1987

(36)

1986

(5)

1985

(23)

1984

(33)

1983

(9)

1982

(5)

1981

(4)

1980

(52)

1979

(21)

1978

(50)

1977

(71)

1976

(35)

1973

(18)

1972

(30)

1971

(3)

1970

(8)

1967

(1)

1966

(3)

1964

(14)

1963

(25)

1962

(60)

1961

(41)

1959

(16)

1958

(2)

1957

(4)

1956

(2)

1954

(24)

All Options
Hide Options

Monday, 27 February 2023 11:41 |

Written by André de Goey
Buy a minimum of €19,99 on LEGO Technic products and get the LEGO 30655 Forklift with Pallet (Polybag) with a retail value of €3,99 for free! Only valid when listed in your shopping cart when placing your order. Max 1 per customer per order. Valid in March 2023 or until stock lasts.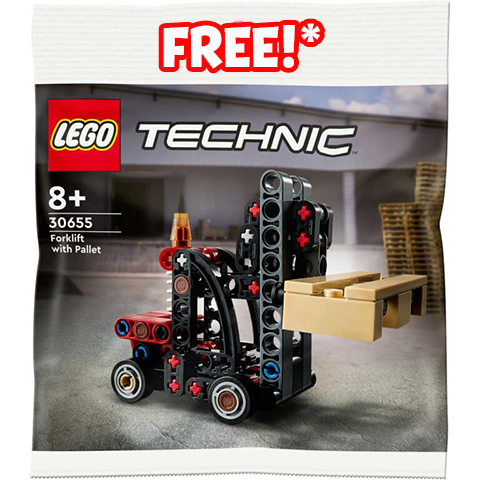 Kids aged 8 and up will love creating warehouse adventures with this buildable forklift with pallet, place LEGO elements on the pallet and lift with the forklift.

Mega assortment


Wrapped with care


Quick shipment


Free products


Super Deals


Safe & Reliable


Click & Collect
Super. Rapide et bien emballé. Au top. LEs petits cadeaux sont sympas aussi.
Great service as always! Thank you for providing such a pleasant shopping experience!
Hallo, ich war sehr zufrieden mit der Lieferung, kann man nur weiter empfehlen LG
interesting offers on great sets, still available or not ant more, so that it's very pleasant and conveniant to make purchases on BrickShop Web Site
Fast posting and all other things worked as good as it can be. I am happy :)