BRICKshop heeft wederom een Nederlandse primeur! Enkele LEGO Toy Story sets zijn nu al direct uit voorraad leverbaar. Hoewel de officiële Nederlandse release voor maart 2010 staat gepland en in augustus 2010 daar nog enkele sets aan toegevoegd worden, kunt u nu al enkele sets bij ons bestellen.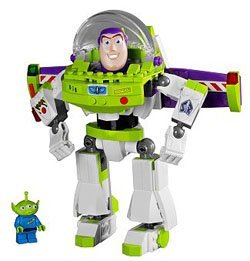 Toy Story is een Amerikaanse animatiefilm uit 1995. Het is de eerste volledig computergeanimeerde film. De film werd geregisseerd door John Lasseter, die ook Een Luizenleven regisseerde.
Het verhaal is geproduceerd door Pixar. De film duurt 81 minuten en is daarmee de eerste volledige speelfilm van Pixar. Na deze film bracht Pixar nog verschillende andere computergeanimeerde films uit. De voice-overs in de Engelstalige versie zijn voor rekening van Tom Hanks (Woody) en Tim Allen (Buzz).
Toy Story 2 is een Amerikaanse animatiefilm uit 1999. De film is het vervolg op de populaire animatiefilm Toy Story van Pixar. Net als de vorige film is deze film geheel met de computer getekend.
Toy Story 3 is een geplande Amerikaanse animatiefilm. De film is het vervolg op Toy Story 2, en zal net als die film geheel met de computer geanimeerd worden. De film wordt geproduceerd door Pixar Animation Studios, en zal naar verwachting op 18 juni 2010 verschijnen.
Lee Unkrich, die meewerkte aan de vorige twee films, zal de regie voor deze film op zich nemen. Acteurs Tom Hanks en Tim Allen zullen weer meewerken aan de film.
LEGO besloot in 2009 om zaken te doen met Walt Disney. Zo komen er dit jaar LEGO sets van Cars, Toys Story en Prince of Persia. Cars zal enkel verschijnen in DUPLO, Toy Story zal verschijnen in zowel DUPLO als LEGO en Prince of Persia enkel in LEGO.
Klik hier voor ALLE Toys Story sets van LEGO. Sommige zijn al direct leverbaar!