Product Filter
Category
Sets

(1360)

LEGO Parts

(594)

LEGO Clothing

(1718)

LEGO Books

(258)

LEGO Bags

(72)

Extras

(737)
LEGO Theme
ART

(4)

Architecture

(20)

Bionicle

(3)

Boost

(3)

Brick Sketches

(4)

Brickheadz

(26)

City

(224)

Classic

(144)

Creator

(90)

DC Batman

(41)

DC Comics Super Heroes

(41)

DOTS

(18)

DUPLO

(131)

Dimensions

(4)

Disney Princess

(33)

Elves

(11)

Fantastic Beasts

(2)

Friends

(520)

Ghostbusters

(1)

Harry Potter

(31)

Hidden Side

(24)

Ideas

(23)

Juniors

(4)

Jurassic World

(26)

Legends of Chima

(1)

Lord of the Rings

(1)

Marvel Avengers

(18)

Marvel Super Heroes

(30)

Mindstorms

(38)

Minecraft

(19)

Minifigures

(64)

Minions

(3)

Monkey Kid

(8)

Nexo Knights

(22)

Ninjago

(303)

Overwatch

(8)

Power Functions

(27)

Powered UP

(13)

Powerpuff Girls

(2)

Racers

(3)

SPIKE™ Prime

(10)

Serious Play

(6)

Speed Champions

(17)

Star Wars

(713)

Stranger Things

(1)

Super Mario

(17)

Technic

(66)

Teenage Mutant Ninja Turtles

(2)

The Batman Movie

(49)

The LEGO Movie 2

(60)

The Lone Ranger

(1)

Toy Story 4

(6)

Trolls

(8)

UniKitty

(7)

WeDo

(7)

xtra

(11)

More
Less
Price
Under €5

(692)

Under €10

(1307)

Under €20

(2836)

Under €30

(3829)

Under €40

(4144)

Under €50

(4263)

Under €100

(4532)

Under €200

(4667)

Under €1000

(4739)

More
Less
Brand
LEGO®

(2760)

LEGO® Education

(113)

LEGOwear

(1718)

BRICKshop

(11)

Disney

(1)

Duracell

(3)

FaBiox

(1)

GalaxyArms

(2)

Hubelino

(15)

LIGHT STAX

(1)

SBRICK

(4)

Varta

(12)

Other manufacturers

(94)

More
Less
Age
from 0½ years

(10)

from 1 years

(12)

from 1½ years

(35)

from 2 years

(79)

from 2½ years

(1)

from 3 years

(212)

from 4 years

(1000)

from 5 years

(524)

from 6 years

(1014)

from 7 years

(463)

from 8 years

(344)

from 9 years

(203)

from 10 years

(256)

from 11 years

(107)

from 12 years

(94)

from 13 years

(1)

from 14 years

(6)

from 16 years

(42)

from 18 years

(15)

More
Less
Gender
Boy

(2020)

Girl

(677)

Boy/Girl

(1114)
Special
Special day
Black Friday

(3)

Brith Day

(37)

Christmas

(45)

Easter

(10)

Fathers Day

(6)

Halloween

(18)

Marrige

(4)

Mothers Day

(6)

New Year

(8)

Sinterklaas

(2)

Thanksgiving

(2)

Valentine

(6)

All Options
Hide Options
Discount
Discount: 90%

(3)

Discount: 80%

(15)

Discount: 75%

(2)

Discount: 60%

(2)

Discount: 51%

(3)

Discount: 50%

(221)

Discount: 40%

(417)

Discount: 33%

(1)

Discount: 30%

(43)

Discount: 25%

(70)

Discount: 20%

(263)

Discount: 17%

(1)

Discount: 15%

(233)

Discount: 10%

(55)

All Options
Hide Options
Reviews
5 stars

(2194)

4 stars

(363)

3 stars

(27)

2 stars

(5)

1 stars

(2)

All Options
Hide Options
Stock
Not available

(1237)

In Stock

(3495)

Coming soon

(10)

All Options
Hide Options
Year
2020

(633)

2019

(732)

2018

(521)

2017

(459)

2016

(461)

2015

(425)

2014

(67)

2013

(189)

2012

(78)

2011

(52)

2010

(123)

2009

(46)

2008

(39)

2007

(13)

2006

(18)

2005

(6)

2004

(17)

2003

(6)

2002

(6)

2001

(5)

2000

(15)

1999

(15)

1998

(21)

1997

(13)

1996

(6)

1995

(11)

1994

(4)

1993

(10)

1992

(9)

1991

(4)

1990

(10)

1989

(7)

1988

(6)

1987

(10)

1986

(3)

1985

(24)

1984

(12)

1983

(5)

1982

(8)

1981

(2)

1980

(23)

1979

(11)

1978

(45)

1977

(19)

1976

(6)

1973

(8)

1972

(6)

1971

(2)

1970

(4)

1967

(4)

1966

(1)

1964

(6)

1962

(44)

1961

(3)

1959

(6)

1958

(1)

1957

(1)

1954

(10)

All Options
Hide Options

Wednesday, 10 November 2010 15:31 |

Last Updated on Wednesday, 10 November 2010 17:27 |

Written by A. de Goeij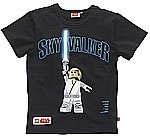 BRICKshop heeft sinds kort haar kledingassortiment LEGOwear mogen uitbreiden met het populaire thema LEGO Star Wars. BRICKshop heeft het exclusieve alleenrecht gekregen om deze mooie kledinglijn ook voor de Nederlandse markt toegankelijk te maken.
Het assortiment LEGOwear Star Wars bestaat vooralsnog uit t-shirts met lange of korte mouwen, sweatshirts en sweatshirts met capuchon en buidelzak. Allen zijn ze voorzien van een Star Wars-figuur (Darth Vader, Darth Maul, Luke Skywalker of Captain Rex), verkrijgbaar in de maten kindermaten van 98 t/m 152 en in diverse kleuren leverbaar.Ook voor de volwassen 'grote' kinderen zijn enkele LEGO Star Wars t-shirts leverbaar.
BRICKshop heeft ervoor gekozen de kleding te sorteren op kledingmaat. Zo kunt u eenvoudig in één oogopslag zien welke kledingstukken er leverbaar zijn in de maat van uw kind of kleinkind.
Is uw kind gek van Star Wars en LEGO dan is dit zeker een uniek cadeau! Nu exclusief in Nederland verkrijgbaar bij brickshop.nl!
De kledinglijn van LEGOwear kenmerkt zich door een hoogwaardige kwaliteit en degelijkheid die is opgeluisterd met fraaie, subtiele LEGO-details. Via BRICKshop kunt u ieder kind van top tot teen (sokken) en van ondergoed tot warme vesten aankleden met een kledingstuk van het zelfde merk als zijn favoriete speelgoed.
Klik hier om naar LEGO Kleding categorie te gaan!