Product Filter
Category
Sets

(1435)

LEGO Parts

(594)

LEGO Clothing

(1783)

LEGO Books

(282)

LEGO Bags

(53)

Extras

(674)
LEGO Theme
Architecture

(23)

Bionicle

(10)

Boost

(3)

Brickheadz

(25)

City

(247)

Classic

(142)

Creator

(96)

DC Batman

(24)

DC Comics Super Heroes

(42)

DOTS

(18)

DUPLO

(177)

Disney Princess

(39)

Elves

(11)

Fantastic Beasts

(2)

Friends

(531)

Ghostbusters

(1)

Harry Potter

(28)

Hidden Side

(19)

Ideas

(17)

Juniors

(3)

Jurassic World

(44)

Legends of Chima

(1)

Marvel Avengers

(14)

Marvel Super Heroes

(36)

Mindstorms

(40)

Minecraft

(19)

Minifigures

(79)

Minions

(3)

Nexo Knights

(25)

Ninjago

(354)

Overwatch

(9)

Power Functions

(28)

Powered UP

(10)

Powerpuff Girls

(2)

Racers

(7)

Serious Play

(6)

Speed Champions

(19)

Spike

(10)

Star Wars

(741)

Stranger Things

(1)

Super Mario

(2)

Technic

(67)

Teenage Mutant Ninja Turtles

(3)

The Batman Movie

(56)

The LEGO Movie 2

(60)

The Lone Ranger

(1)

The Simpsons

(1)

Toy Story 4

(6)

Trolls

(9)

UniKitty

(10)

WeDo

(7)

xtra

(13)

More
Less
Price
Under €5

(735)

Under €10

(1361)

Under €20

(2911)

Under €30

(3904)

Under €40

(4228)

Under €50

(4347)

Under €100

(4603)

Under €200

(4735)

Under €1000

(4811)

More
Less
Brand
LEGO

(2747)

LEGO Education

(123)

LEGOwear

(1783)

BRICKshop

(11)

Disney

(1)

Duracell

(3)

FaBiox

(2)

GalaxyArms

(6)

Hubelino

(14)

LIGHT STAX

(8)

SBRICK

(4)

Varta

(11)

Other manufacturers

(104)

More
Less
Age
from 0½ years

(11)

from 1 years

(13)

from 1½ years

(39)

from 2 years

(87)

from 2½ years

(1)

from 3 years

(197)

from 4 years

(1002)

from 5 years

(573)

from 6 years

(966)

from 7 years

(465)

from 8 years

(365)

from 9 years

(209)

from 10 years

(272)

from 11 years

(108)

from 12 years

(99)

from 13 years

(1)

from 14 years

(9)

from 16 years

(44)

from 18 years

(5)

More
Less
Gender
Boy

(2178)

Girl

(681)

Boy/Girl

(1015)
Special
Special day
Black Friday

(3)

Brith Day

(44)

Christmas

(44)

Easter

(10)

Fathers Day

(5)

Halloween

(12)

Marrige

(3)

Mothers Day

(5)

New Year

(9)

Sinterklaas

(2)

Thanksgiving

(2)

Valentine

(8)

All Options
Hide Options
Discount
Discount: 90%

(2)

Discount: 80%

(14)

Discount: 70%

(4)

Discount: 60%

(1)

Discount: 51%

(2)

Discount: 50%

(236)

Discount: 40%

(453)

Discount: 38%

(1)

Discount: 30%

(46)

Discount: 25%

(66)

Discount: 20%

(250)

Discount: 17%

(1)

Discount: 15%

(191)

Discount: 10%

(46)

All Options
Hide Options
Reviews
5 stars

(2079)

4 stars

(458)

3 stars

(37)

2 stars

(8)

1 stars

(2)

All Options
Hide Options
Stock
Not available

(1549)

In Stock

(3193)

Coming soon

(67)

Preorder

(7)

All Options
Hide Options
Year
2020

(434)

2019

(748)

2018

(598)

2017

(540)

2016

(484)

2015

(440)

2014

(79)

2013

(197)

2012

(87)

2011

(55)

2010

(126)

2009

(48)

2008

(39)

2007

(14)

2006

(16)

2005

(4)

2004

(17)

2003

(6)

2002

(6)

2001

(5)

2000

(21)

1999

(15)

1998

(22)

1997

(11)

1996

(7)

1995

(11)

1994

(4)

1993

(9)

1992

(12)

1991

(4)

1990

(8)

1989

(4)

1988

(6)

1987

(11)

1986

(3)

1985

(26)

1984

(13)

1983

(4)

1982

(7)

1981

(1)

1980

(28)

1979

(15)

1978

(43)

1977

(17)

1976

(5)

1973

(9)

1972

(3)

1971

(6)

1970

(3)

1967

(4)

1966

(1)

1964

(7)

1962

(42)

1961

(4)

1959

(5)

1958

(1)

1954

(11)

All Options
Hide Options

Tuesday, 02 April 2013 09:41 |

Last Updated on Tuesday, 02 April 2013 09:43 |

Written by A. de Goeij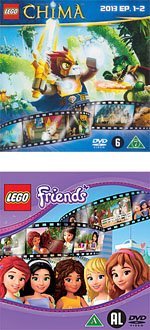 GRATIS DVD's!Ter promotie van LEGO Friends en LEGO Legends of Chima deelt BRICKshop tijdelijk gratis DVD's uit bij een orderwaarde van 50 euro of meer. De actie is geldig zolang de voorraad strekt en uitsluitend mits voldaan aan de voorwaarden.
LEGO Legends of Chima DVD
Welkom in de wereld van Chima. Een magisch koninkrijk met machtige dierenstammen die in vrede samenleven. Helaas wordt de vrede op de proef gesteld!
De dierenstammen zijn het niet met elkaar eens en gaan strijden om de magische CHI, de energiebron die de strijders en hun voertuigen speciale krachten en snelheid geeft.
LEGO Friends DVD
Olivia is nieuw in Heartlake City en heeft hier nog geen vriendinnen. Ze gaat haar tante helpen in de dierenkliniek. Eén van de hondjes, Scarlet, wordt niet goed vastgehouden en zet het op een lopen. Olivia holt achter Scarlet aan die overal problemen veroorzaakt, en Olivia wordt daarop aangekeken. Hoe zal dit aflopen? Lukt het Olivia om het goed te maken en leuke vriendinnen te ontmoeten?
Klik hier voor een overzicht van alle GRATIS artikelen.