Product Filter
Category
Sets

(1286)

LEGO Parts

(586)

LEGO Clothing

(1773)

LEGO Books

(255)

LEGO Bags

(72)

Extras

(721)
LEGO Theme
ART

(4)

Architecture

(20)

Bionicle

(3)

Boost

(3)

Brick Sketches

(4)

Brickheadz

(24)

City

(181)

Classic

(142)

Creator

(75)

DC Batman

(41)

DC Comics Super Heroes

(40)

DOTS

(18)

DUPLO

(131)

Dimensions

(4)

Disney Princess

(31)

Elves

(11)

Fantastic Beasts

(2)

Friends

(519)

Ghostbusters

(1)

Harry Potter

(31)

Hidden Side

(24)

Ideas

(23)

Juniors

(4)

Jurassic World

(26)

Legends of Chima

(1)

Lord of the Rings

(1)

Marvel Avengers

(18)

Marvel Super Heroes

(30)

Mindstorms

(38)

Minecraft

(19)

Minifigures

(64)

Minions

(3)

Monkey Kid

(8)

Nexo Knights

(21)

Ninjago

(285)

Overwatch

(8)

Power Functions

(27)

Powered UP

(13)

Powerpuff Girls

(2)

Racers

(3)

SPIKE™ Prime

(10)

Serious Play

(6)

Speed Champions

(17)

Star Wars

(713)

Stranger Things

(1)

Super Mario

(17)

Technic

(66)

Teenage Mutant Ninja Turtles

(2)

The Batman Movie

(49)

The LEGO Movie 2

(60)

The Lone Ranger

(1)

Toy Story 4

(6)

Trolls

(8)

UniKitty

(7)

WeDo

(7)

xtra

(11)

More
Less
Price
Under €5

(672)

Under €10

(1262)

Under €20

(2830)

Under €30

(3813)

Under €40

(4127)

Under €50

(4233)

Under €100

(4492)

Under €200

(4621)

Under €1000

(4693)

More
Less
Brand
LEGO®

(2660)

LEGO® Education

(112)

LEGOwear

(1773)

BRICKshop

(11)

Disney

(1)

Duracell

(3)

FaBiox

(1)

GalaxyArms

(2)

Hubelino

(15)

LIGHT STAX

(1)

SBRICK

(4)

Varta

(12)

Other manufacturers

(94)

More
Less
Age
from 0½ years

(10)

from 1 years

(12)

from 1½ years

(35)

from 2 years

(83)

from 2½ years

(1)

from 3 years

(216)

from 4 years

(991)

from 5 years

(493)

from 6 years

(992)

from 7 years

(457)

from 8 years

(343)

from 9 years

(208)

from 10 years

(260)

from 11 years

(110)

from 12 years

(97)

from 13 years

(1)

from 14 years

(6)

from 16 years

(42)

from 18 years

(15)

More
Less
Gender
Boy

(1978)

Girl

(674)

Boy/Girl

(1127)
Special
Special day
Black Friday

(3)

Brith Day

(35)

Christmas

(44)

Easter

(10)

Fathers Day

(6)

Halloween

(18)

Marrige

(4)

Mothers Day

(6)

New Year

(8)

Sinterklaas

(2)

Thanksgiving

(2)

Valentine

(5)

All Options
Hide Options
Discount
Discount: 90%

(3)

Discount: 80%

(15)

Discount: 75%

(2)

Discount: 60%

(2)

Discount: 51%

(3)

Discount: 50%

(218)

Discount: 40%

(415)

Discount: 33%

(1)

Discount: 30%

(43)

Discount: 25%

(71)

Discount: 20%

(265)

Discount: 17%

(1)

Discount: 15%

(229)

Discount: 10%

(57)

All Options
Hide Options
Reviews
5 stars

(2119)

4 stars

(351)

3 stars

(26)

2 stars

(5)

1 stars

(2)

All Options
Hide Options
Stock
Not available

(1138)

In Stock

(3543)

Coming soon

(16)

All Options
Hide Options
Year
2020

(689)

2019

(722)

2018

(487)

2017

(429)

2016

(453)

2015

(419)

2014

(66)

2013

(188)

2012

(77)

2011

(52)

2010

(122)

2009

(43)

2008

(38)

2007

(13)

2006

(19)

2005

(6)

2004

(17)

2003

(6)

2002

(6)

2001

(5)

2000

(15)

1999

(15)

1998

(21)

1997

(13)

1996

(6)

1995

(11)

1994

(4)

1993

(10)

1992

(9)

1991

(4)

1990

(10)

1989

(7)

1988

(6)

1987

(10)

1986

(3)

1985

(24)

1984

(11)

1983

(5)

1982

(8)

1981

(2)

1980

(23)

1979

(10)

1978

(46)

1977

(19)

1976

(5)

1973

(8)

1972

(6)

1971

(2)

1970

(4)

1967

(4)

1966

(1)

1964

(5)

1962

(44)

1961

(3)

1959

(6)

1958

(1)

1957

(1)

1954

(6)

All Options
Hide Options

Monday, 11 June 2012 09:05 |

Last Updated on Monday, 27 August 2012 07:17 |

Written by A. de Goeij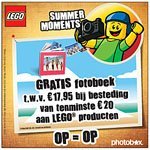 GRATIS FotoboekNu tijdelijk een GRATIS fotoboek ter waarde van €17,95 bij besteding van tenminste €20,- aan LEGO producten bij brickshop.nl. Dit mogen LEGO foto's zijn, maar dat hoeft natuurlijk niet. Uw vakantieherinneringen of LEGO foto's verzameld in een 30 pagina's tellend fotoboek. De stappen om uw GRATIS fotoboek te krijgen zijn:
Koop voor tenminste €20,- aan LEGO producten, plaats uw voucher in het winkelmandje en uw ontvangt uw voucher met unieke code.
Surf naar www.photobox.nl/lego
Registreer uzelf en log in op de website
Ontwerp uw GRATIS spiraal fotoboek van 30 pagina's met uw eigen foto's en tekst.
Vul op de betaalpagina uw unieke code in en ontvang 100% korting ter waarde van €17,95. U betaald alleen verzendkosten.
Let op! Deze zomeractie is geldig van 12 juni t/m 31 oktober 2012 of zolang de voorraad strekt. Alléén geldig wanneer opgenomen in uw winkelmandje! Maximaal 1 voucher per order per klant!
Klik hier om de voucher direct aan uw winkelmandje toe te voegen.