Product Filter
Category
Sets

(1143)

LEGO Parts

(1276)

LEGO Clothing

(1236)

LEGO Books

(305)

LEGO Bags

(74)

Extras

(620)
LEGO Theme
ART

(7)

Adidas

(4)

Architecture

(19)

Boost

(3)

Brick Sketches

(5)

Brickheadz

(35)

City

(278)

Classic

(230)

Creator

(90)

DC Batman

(216)

DC Super Heroes

(21)

DOTS

(38)

DUPLO

(86)

Dimensions

(3)

Disney

(43)

Fantastic Beasts

(2)

Friends

(162)

Harry Potter

(67)

Hero Factory

(2)

Hidden Side

(19)

Ideas

(22)

Jurassic World

(86)

LEGOLAND

(5)

Legends of Chima

(1)

Lord of the Rings

(1)

MARVEL

(54)

Mindstorms

(22)

Minecraft

(25)

Minifigures

(40)

Minions

(6)

Monkey Kid

(13)

Nexo Knights

(2)

Ninjago

(358)

Overwatch

(3)

Power Functions

(20)

Powered UP

(15)

Racers

(1)

SPIKE™ Prime

(9)

Serious Play

(7)

Simpsons

(2)

Speed Champions

(38)

Star Wars

(132)

Stranger Things

(1)

Super Mario

(35)

Technic

(58)

The Batman Movie

(23)

The LEGO Movie 2

(35)

Toy Story 4

(4)

Trolls

(5)

UniKitty

(4)

Vidiyo

(11)

WeDo

(5)

xtra

(9)

Meer
Minder
Price
Under €5

(659)

Under €10

(1511)

Under €20

(3230)

Under €30

(3903)

Under €40

(4106)

Under €50

(4203)

Under €100

(4460)

Under €200

(4578)

Under €1000

(4651)

Meer
Minder
Brand
LEGO

(3215)

LEGO Education

(52)

LEGOwear

(1226)

BRICKshop

(12)

Duracell

(4)

FaBiox

(1)

GalaxyArms

(1)

Hubelino

(14)

SBRICK

(2)

Varta

(11)

Adidas

(3)

LEGO IKEA

(4)

Other manufacturers

(92)

Meer
Minder
Age
from 1 years

(4)

from 1½ years

(24)

from 2 years

(94)

from 3 years

(243)

from 4 years

(1683)

from 5 years

(445)

from 6 years

(824)

from 7 years

(370)

from 8 years

(328)

from 9 years

(181)

from 10 years

(232)

from 11 years

(16)

from 12 years

(35)

from 13 years

(5)

from 14 years

(10)

from 15 years

(5)

from 16 years

(44)

from 18 years

(64)

Meer
Minder
Gender
Boy

(1768)

Girl

(450)

Boy/Girl

(1188)
Speciaal
Special day
Brith Day

(21)

Christmas

(45)

Easter

(6)

Fathers Day

(6)

Halloween

(30)

Marrige

(2)

Mothers Day

(7)

New Year

(5)

Thanksgiving

(1)

Valentine

(5)

Alle opties
Verberg opties
Discount
Discount: 100%

(2)

Discount: 90%

(2)

Discount: 80%

(17)

Discount: 75%

(2)

Discount: 70%

(7)

Discount: 60%

(2)

Discount: 51%

(3)

Discount: 50%

(85)

Discount: 40%

(11)

Discount: 33%

(5)

Discount: 30%

(48)

Discount: 25%

(100)

Discount: 20%

(294)

Discount: 15%

(256)

Discount: 10%

(36)

Alle opties
Verberg opties
Reviews
5 stars

(2355)

4 stars

(121)

3 stars

(13)

2 stars

(1)

1 stars

(1)

Alle opties
Verberg opties
Stock
Not available

(562)

In Stock

(4052)

Coming soon

(39)

Preorder

(3)

Alle opties
Verberg opties
Year
2022

(2)

2021

(1316)

2020

(890)

2019

(477)

2018

(246)

2017

(176)

2016

(114)

2015

(96)

2014

(44)

2013

(65)

2012

(63)

2011

(50)

2010

(144)

2009

(71)

2008

(59)

2007

(17)

2006

(26)

2005

(14)

2004

(45)

2003

(13)

2002

(16)

2001

(10)

2000

(26)

1999

(32)

1998

(19)

1997

(15)

1996

(21)

1995

(12)

1994

(4)

1993

(11)

1992

(11)

1991

(13)

1990

(18)

1989

(3)

1988

(10)

1987

(22)

1986

(3)

1985

(30)

1984

(7)

1983

(9)

1982

(9)

1981

(2)

1980

(49)

1979

(23)

1978

(30)

1977

(41)

1976

(23)

1973

(15)

1972

(29)

1971

(2)

1970

(12)

1969

(38)

1967

(4)

1966

(1)

1964

(8)

1962

(70)

1961

(8)

1959

(34)

1958

(4)

1957

(3)

1956

(2)

1954

(20)

Alle opties
Verberg opties

Monday, 04 January 2021 09:03 |

Last Updated on Tuesday, 09 February 2021 10:00 |

Written by Cat Alogus
Boordevol nieuwe LEGO en LEGO DUPLO producten staat de catalogus van 2021 voor de eerste helft van het jaar. Dit jaar verschijnt ook het nieuwe thema LEGO Vidiyo! Daarnaast is er focus op LEGO voor volwassenen. Digitaal al te bewonderen.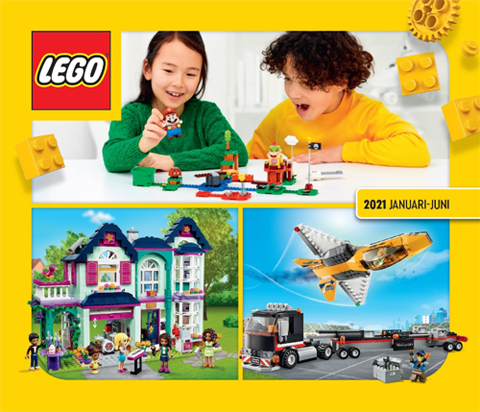 Mega assortment


Wrapped with care


Quick shipment


Free products


Super Deals


Safe & Reliable


Click & Collect
Excellent service ,easy to place an order. Website very easy to navigate. Had no trouble finding exactly what I was looking for. Prompt shipping and delivered with in two days of placing order.
Fantastic service. Arrived much quicker than I thought. Well packaged. Will definitely be ordering again.
Customer service team could not have been more courteous or helpful. This is the second year I purchased a LEGO gift here and am fully loyal ✅
brilliant great packaging, quick delivery. Only complaint I want to order 21030 United States Capitol Building with no success Help Pamela
Order was processed and shipped on the same day of purchase with frequent updates. Arrived quickly.