Product Filter
Category
Sets

(1236)

LEGO Parts

(640)

LEGO Clothing

(1655)

LEGO Books

(237)

LEGO Bags

(64)

Extras

(751)
LEGO Theme
ART

(4)

Architecture

(17)

Bionicle

(3)

Boost

(3)

Brick Sketches

(4)

Brickheadz

(30)

City

(164)

Classic

(120)

Clikits

(1)

Creator

(77)

DC Batman

(55)

DC Comics Super Heroes

(40)

DOTS

(19)

DUPLO

(137)

Dimensions

(4)

Disney Princess

(31)

Elves

(7)

Fantastic Beasts

(3)

Friends

(417)

Harry Potter

(33)

Hidden Side

(24)

Ideas

(23)

Juniors

(4)

Jurassic World

(33)

Legends of Chima

(3)

Lord of the Rings

(2)

Marvel Avengers

(18)

Marvel Super Heroes

(30)

Mindstorms

(35)

Minecraft

(17)

Minifigures

(57)

Minions

(3)

Monkey Kid

(8)

Nexo Knights

(11)

Ninjago

(307)

Overwatch

(8)

Power Functions

(26)

Powered UP

(13)

Powerpuff Girls

(2)

Racers

(3)

SPIKE™ Prime

(10)

Serious Play

(6)

Simpsons

(1)

Speed Champions

(18)

Star Wars

(768)

Stranger Things

(1)

Super Mario

(19)

Technic

(64)

Teenage Mutant Ninja Turtles

(1)

The Batman Movie

(61)

The LEGO Movie 2

(63)

The Lone Ranger

(1)

Toy Story 4

(6)

Trolls

(7)

UniKitty

(6)

WeDo

(7)

xtra

(11)

More
Less
Price
Under €5

(648)

Under €10

(1263)

Under €20

(3140)

Under €30

(3787)

Under €40

(4021)

Under €50

(4127)

Under €100

(4384)

Under €200

(4509)

Under €1000

(4580)

More
Less
Brand
LEGO

(2660)

LEGO Education

(119)

LEGOwear

(1649)

BRICKshop

(11)

Disney

(1)

Duracell

(3)

FaBiox

(3)

GalaxyArms

(5)

Hubelino

(15)

LIGHT STAX

(1)

SBRICK

(4)

Varta

(12)

ZURU MAYKA

(3)

Other manufacturers

(92)

More
Less
Age
from 0½ years

(10)

from 1 years

(12)

from 1½ years

(36)

from 2 years

(86)

from 2½ years

(1)

from 3 years

(243)

from 4 years

(1055)

from 5 years

(463)

from 6 years

(922)

from 7 years

(453)

from 8 years

(330)

from 9 years

(204)

from 10 years

(247)

from 11 years

(99)

from 12 years

(77)

from 13 years

(1)

from 14 years

(5)

from 16 years

(43)

from 18 years

(17)

from 21 years

(7)

More
Less
Gender
Boy

(1889)

Girl

(569)

Boy/Girl

(1250)
Special
Special day
Black Friday

(2)

Brith Day

(29)

Christmas

(45)

Easter

(10)

Fathers Day

(6)

Halloween

(26)

Marrige

(4)

Mothers Day

(5)

New Year

(6)

Sinterklaas

(2)

Thanksgiving

(3)

Valentine

(5)

All Options
Hide Options
Discount
Discount: 90%

(4)

Discount: 80%

(34)

Discount: 75%

(3)

Discount: 60%

(6)

Discount: 51%

(3)

Discount: 50%

(611)

Discount: 40%

(303)

Discount: 33%

(1)

Discount: 30%

(43)

Discount: 25%

(121)

Discount: 20%

(282)

Discount: 15%

(194)

Discount: 10%

(74)

All Options
Hide Options
Reviews
5 stars

(2079)

4 stars

(306)

3 stars

(17)

2 stars

(3)

1 stars

(3)

All Options
Hide Options
Stock
Not available

(768)

In Stock

(3813)

Coming soon

(5)

Preorder

(1)

All Options
Hide Options
Year
2020

(827)

2019

(673)

2018

(480)

2017

(377)

2016

(387)

2015

(375)

2014

(64)

2013

(176)

2012

(79)

2011

(54)

2010

(128)

2009

(41)

2008

(37)

2007

(14)

2006

(20)

2005

(8)

2004

(20)

2003

(10)

2002

(6)

2001

(5)

2000

(17)

1999

(14)

1998

(21)

1997

(14)

1996

(9)

1995

(13)

1994

(5)

1993

(11)

1992

(10)

1991

(3)

1990

(11)

1989

(7)

1988

(6)

1987

(13)

1986

(5)

1985

(24)

1984

(6)

1983

(6)

1982

(8)

1981

(1)

1980

(24)

1979

(10)

1978

(46)

1977

(22)

1976

(3)

1973

(5)

1972

(7)

1971

(2)

1970

(4)

1967

(4)

1966

(2)

1964

(5)

1962

(48)

1961

(3)

1959

(6)

1958

(1)

1957

(1)

1954

(7)

All Options
Hide Options

Thursday, 29 November 2012 10:42 |

Last Updated on Thursday, 29 November 2012 10:51 |

Written by A. de Goeij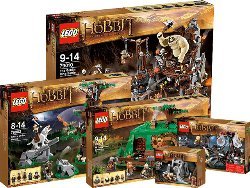 LEGO The Hobbit Collection 2013Vanaf vandaag is LEGO The Hobbit uit voorraad leverbaar. Vijf prachtige sets van LEGO geproduceerd naar de gelijknamige film die binnenkort in de bioscopen verschijnt.
The Hobbit is een driedelige film gebaseerd op het gelijknamige boek van J.R.R. Tolkien. Oorspronkelijk zou het verhaal in twee delen verfilmd worden: het eerste deel zou het verhaal van De Hobbit vertellen en het tweede deel de overgang van De Hobbit naar The Lord of the Rings. Op 30 juli 2012 maakte regisseur Jackson echter via Facebook bekend dat de filmadaptatie een trilogie zal worden. Deel 1 zal in december 2012 en deel 2 in december 2013 worden uitgebracht. Deel drie wordt verwacht in de zomer van 2014.
Koopt u de serie in één keer dan heeft BRICKshop een leuke aanbieding voor u: De LEGO The Hobbit Collection 2013. Deze collectie bestaat uit 5 Hobbit sets:
LEGO 79000 Riddles for the Ring
LEGO 79001 Escape form Mirkwood Spiders
LEGO 79002 Attack of the Wargs
LEGO 79003 An Unexpected Gathering
LEGO 79010 De Goblinkoning Veldslag
Klik hier voor de categorie LEGO The Hobbit.