In Las Vegas heeft LEGO zijn langverwachte nieuwe generatie Mindstorms EV3 robots geïntroduceerd. En er zjn grote stappen gemaakt met dit geweldige speelgoed voor kinderen en volwassenen!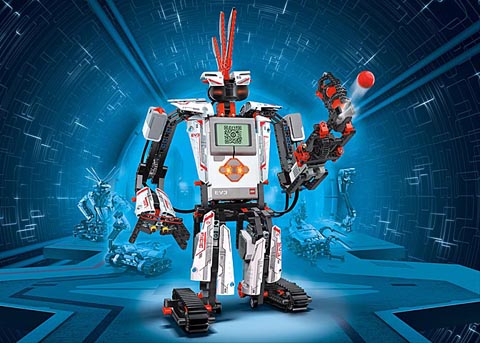 LEGO 31313 Mindstorms EV3
Weliswaar is de nieuwe versie nog duurder geworden, de mogelijkheden zijn zeer sterk verbeterd. Zo kun je de robots die je maakt uit 594 (!) stukken, met of zonder PC programmeren, kun je met de set wel vijf verschillende robots bouwen en is alles verbeterd van de snelheid en de kracht tot en met de intelligentie en de communicatie.
Het is goed te zien dat er 6 jaar voorbij zijn gegaan en dat Lego deze jaren goed heeft gebruikt. Zo zal Mindstorms, die vanaf deze zomer te verkrijgen zijn, nog beter geschikt zijn om als educatie materiaal te dienen. Ook kan geprogrammeerde software beter worden gedeeld.
LEGO Mindstorms EV3 is de derde generatie robotkits van Lego. Deze EV3 biedt een lange lijst van nieuwe functies gericht op snelheid , kracht, intelligente programmeerbaarheid en communicatie met de robot. Het robotica platform is gericht op jong en oud en kan gebruikt worden voor educatie doeleinden.
Het systeem is opgebouwd rond een reeks nieuwe sensoren en programmeerbare intelligente bouwstenen, die elk een andere motor, sensor of scherm bedienen. Met behulp van deze stenen kan o.a. worden geprogrammeerd hoe een robot moet bewegen. Het Mindstorms EV3 platform bevat sensoren die meerdere kleuren, of de afwezigheid van kleur kunnen detecteren.
LEGO Mindstorms EV3 maakt programmeerbare robots eenvoudiger dan ooit. Zo kan de Mindstorms EV3 geprogrammeerd worden om een langs een hindernisbaan te navigeren of om een object aan te vallen dat het heeft gesignaleerd. De sofware om een robot te programmeren is bijgeleverd. Hierbij is ook aandacht voor het eenvoudig programmeren doordat bouwstenen die zijn toegevoegd automatisch worden herkend. De basis set die Lego aanbiedt is voorzien van 12 instructies voor verschillende robot modellen.
Met Mindstorms EV3 kunnen onder meer de volgende robots worden gebouwd:
Robothond, puppy
Een soort tank, Track3r
Een robotarm, RoboArm
Een robotspin die balletjes kan afvuren, Spik3r
Een robotslang, R3ptar
Een robot mannetje, GyroBoy
Een rijdende robot, Gripp3r
Niet alleen is de nieuwe Mindstorms EV3 versie ontwikkeld met behulp van input uit de community. Lego hoopt er ook op dat de community met vele nieuwe andere ontwerpen komt die ze met elkaar gaan delen. Deze ontwikkeling zie je bij veel robots terug komen. Voorzie de gemeenschap van de hardware (bouwstenen) en laat de ontwikkeling van toepassingen en software bij de gebruikers vandaan komen!
Lego heeft met meer dan 800 leraren over de hele wereld besproken welke voorwaarden belangrijk zijn om Mindstorms in te zetten voor onderwijs in robotica. Naast praktische wensen zoals het bouwen van een robot in 1 lesuur is het met name de bedoeling dat kinderen wegwijs wordt gemaakt hoe ze snel zelf aan de slag kunnen. Hierbij wordt gebruikt gemaakt van toegankelijke devices die gebruik maken van Android of IOS.
De nieuwe EV3 software volgt de laatste ontwikkelingen op het gebied intuïtieve software, wat resulteert in een zeer gebruiksvriendelijke interface. Het wordt geleverd met 48 stap-voor-stap handleidingen met video op basis van instructies. Studenten kunnen nu een volledig functionerende robot in een 45-minuten les bouwen en programmeren.
De bedoeling van LEGO is dat bijna iedereen een Mindstorms robot EV3 moet kunnen maken, zelf kan programmeren en binnen 20 minuten na het openen van de doos zijn eerste robot heeft gemaakt.
Klik hier voor LEGO 3113 Mindstorms EV3