LEGO Wear is based on LEGO product lines and is characterised by brightly coloured comfortable clothing with many fine prints. A new LEGO Wear collection is released every year!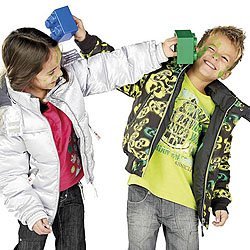 LEGO Wear is produced for LEGO by KABOOKI. LEGO Wear is suitable for boys and girsl between the ages of 0 and 12. The LEGO Wear designers always combine fashion with features of the popular LEGO universe. LEGO Wear fits kids of various ages.
LEGO Wear is based on the ideal of edutainment. Kids develop themselves through playing, and LEGO Wear gives them the freedom to move and play! LEGO WEAR is fun, functional and comfortable kids' clothing of excellent quality.
Product values:
Fun
LEGO Wear equals fun clothing. The playful design and bright colours are distinctive for our items. The LEGO universe is a source of inspiration for the prints and designs. Fashion in bright colours - thát is LEGO wear.
Function
(Un)dressing is a piece of cake! LEGO wear clothes are specifically designed for kids of various ages. Features that make the clothes comfortable and funtional are, for example, crochet buttons, zippers, easy-to-open buttons, push buttons, wide neck lines, etc. LEGO wear products motivate and stimulate the indepedence of children when it comes to dressing themselves.
Quality
Excellent quality up to the finest detail is what characterises LEGO Wear. Lego Wear clothing is largely unaffected by playing outdoors, daily use and countless washes. The kid's age determines the clothing's material: soft fabric for babies and durable denims for toddlers - this shows how quality is inherent in every single LEGO Wear product.
Comfort
Clothing should be comfortable to wear, especially for kids that play and discover. LEGO Wear clothing allows your kid to move freely.
BRICKshop is the only official LEGO Star Wars clothing dealer in The Netherlands. We thus offer clothing items unique in this country!