Product Filter
Category
Sets

(1360)

LEGO Parts

(594)

LEGO Clothing

(1718)

LEGO Books

(258)

LEGO Bags

(72)

Extras

(737)
LEGO Theme
ART

(4)

Architecture

(20)

Bionicle

(3)

Boost

(3)

Brick Sketches

(4)

Brickheadz

(26)

City

(224)

Classic

(144)

Creator

(90)

DC Batman

(41)

DC Comics Super Heroes

(41)

DOTS

(18)

DUPLO

(131)

Dimensions

(4)

Disney Princess

(33)

Elves

(11)

Fantastic Beasts

(2)

Friends

(520)

Ghostbusters

(1)

Harry Potter

(31)

Hidden Side

(24)

Ideas

(23)

Juniors

(4)

Jurassic World

(26)

Legends of Chima

(1)

Lord of the Rings

(1)

Marvel Avengers

(18)

Marvel Super Heroes

(30)

Mindstorms

(38)

Minecraft

(19)

Minifigures

(64)

Minions

(3)

Monkey Kid

(8)

Nexo Knights

(22)

Ninjago

(303)

Overwatch

(8)

Power Functions

(27)

Powered UP

(13)

Powerpuff Girls

(2)

Racers

(3)

SPIKE™ Prime

(10)

Serious Play

(6)

Speed Champions

(17)

Star Wars

(713)

Stranger Things

(1)

Super Mario

(17)

Technic

(66)

Teenage Mutant Ninja Turtles

(2)

The Batman Movie

(49)

The LEGO Movie 2

(60)

The Lone Ranger

(1)

Toy Story 4

(6)

Trolls

(8)

UniKitty

(7)

WeDo

(7)

xtra

(11)

More
Less
Price
Under €5

(692)

Under €10

(1307)

Under €20

(2836)

Under €30

(3829)

Under €40

(4144)

Under €50

(4263)

Under €100

(4532)

Under €200

(4667)

Under €1000

(4739)

More
Less
Brand
LEGO®

(2760)

LEGO® Education

(113)

LEGOwear

(1718)

BRICKshop

(11)

Disney

(1)

Duracell

(3)

FaBiox

(1)

GalaxyArms

(2)

Hubelino

(15)

LIGHT STAX

(1)

SBRICK

(4)

Varta

(12)

Other manufacturers

(94)

More
Less
Age
from 0½ years

(10)

from 1 years

(12)

from 1½ years

(35)

from 2 years

(79)

from 2½ years

(1)

from 3 years

(212)

from 4 years

(1000)

from 5 years

(524)

from 6 years

(1014)

from 7 years

(463)

from 8 years

(344)

from 9 years

(203)

from 10 years

(256)

from 11 years

(107)

from 12 years

(94)

from 13 years

(1)

from 14 years

(6)

from 16 years

(42)

from 18 years

(15)

More
Less
Gender
Boy

(2020)

Girl

(677)

Boy/Girl

(1114)
Special
Special day
Black Friday

(3)

Brith Day

(37)

Christmas

(45)

Easter

(10)

Fathers Day

(6)

Halloween

(18)

Marrige

(4)

Mothers Day

(6)

New Year

(8)

Sinterklaas

(2)

Thanksgiving

(2)

Valentine

(6)

All Options
Hide Options
Discount
Discount: 90%

(3)

Discount: 80%

(15)

Discount: 75%

(2)

Discount: 60%

(2)

Discount: 51%

(3)

Discount: 50%

(221)

Discount: 40%

(417)

Discount: 33%

(1)

Discount: 30%

(43)

Discount: 25%

(70)

Discount: 20%

(263)

Discount: 17%

(1)

Discount: 15%

(233)

Discount: 10%

(55)

All Options
Hide Options
Reviews
5 stars

(2194)

4 stars

(363)

3 stars

(27)

2 stars

(5)

1 stars

(2)

All Options
Hide Options
Stock
Not available

(1237)

In Stock

(3495)

Coming soon

(10)

All Options
Hide Options
Year
2020

(633)

2019

(732)

2018

(521)

2017

(459)

2016

(461)

2015

(425)

2014

(67)

2013

(189)

2012

(78)

2011

(52)

2010

(123)

2009

(46)

2008

(39)

2007

(13)

2006

(18)

2005

(6)

2004

(17)

2003

(6)

2002

(6)

2001

(5)

2000

(15)

1999

(15)

1998

(21)

1997

(13)

1996

(6)

1995

(11)

1994

(4)

1993

(10)

1992

(9)

1991

(4)

1990

(10)

1989

(7)

1988

(6)

1987

(10)

1986

(3)

1985

(24)

1984

(12)

1983

(5)

1982

(8)

1981

(2)

1980

(23)

1979

(11)

1978

(45)

1977

(19)

1976

(6)

1973

(8)

1972

(6)

1971

(2)

1970

(4)

1967

(4)

1966

(1)

1964

(6)

1962

(44)

1961

(3)

1959

(6)

1958

(1)

1957

(1)

1954

(10)

All Options
Hide Options

Friday, 30 September 2011 13:48 |

Last Updated on Saturday, 01 October 2011 10:55 |

Written by Bastiaan Vroepop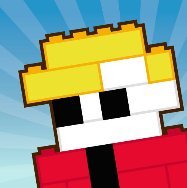 De alternatieve iOS-spellen vliegen ons om de oren. Gisteren onthulde Pixar nog de Appmates, spelvoorwerpen die je op je iPad-scherm zet om ermee te spelen. Nu doet LEGO er een schepje bovenop met Life of George, een LEGO set die verwacht dat je een iPhone bij de hand hebt. Spelers moeten bijgeleverde opdrachten zo snel mogelijk uitvoeren en een foto van het eindresultaat maken. Hoe beter je dit doet en hoe sneller je klaar bent, hoe hoger jouw uiteindelijke puntenaantal.
Met Life of George moet je de gebeurtenissen uit het leven van de gelijknamige hoofdpersoon op een rijtje zetten. Dit doe je door George's foto's zo snel mogelijk met LEGO na te maken. Een bijbehorende gratis iPhone-app laat je zien wat je moet maken, waarna jij deze zo snel mogelijk in elkaar moet zetten. Zodra je een foto van het eindresultaat hebt gemaakt beoordeelt de app hoe snel en accuraat je te werk bent gegaan.
De LEGO set komt vanaf 1 oktober in verschillende LEGO Stores te liggen voor 30 dollar. In Nederland hebben we nog geen LEGO Store, maar er zijn er wel een aantal te vinden in Engeland en Duitsland. De app zelf is wel in de Nederlandse App Store te downloaden. Spelers krijgen twaalf levels voor hun kiezen, waarin ze tien foto's van verschillende moeilijkheidsgraden moeten namaken.
Natuurlijk binnenkort ook bij BRICKshop verkrijgbaar!