Product Filter
Category
Sets

(1274)

LEGO Parts

(541)

LEGO Clothing

(1635)

LEGO Books

(327)

LEGO Bags

(62)

Extras

(693)
LEGO Theme
Angry Birds

(2)

Architecture

(21)

Bionicle

(6)

Boost

(3)

Brickheadz

(23)

City

(206)

Classic

(126)

Creator

(94)

DC Batman

(10)

DC Comics Super Heroes

(37)

DC SuperHero Girls

(1)

DUPLO

(164)

Disney Princess

(23)

Elves

(11)

Fantastic Beasts

(2)

Friends

(553)

Galaxy Squad

(1)

Ghostbusters

(3)

Harry Potter

(18)

Hero Factory

(2)

Hidden Side

(8)

Ideas

(16)

Juniors

(25)

Jurassic World

(36)

Lord of the Rings

(2)

Marvel Avengers

(7)

Marvel Super Heroes

(31)

Mindstorms

(44)

Minecraft

(20)

Minifigures

(136)

Nexo Knights

(33)

Ninjago

(399)

Overwatch

(9)

Pirates of the Caribbean

(1)

Power Functions

(27)

Powerpuff Girls

(2)

Prince of Persia

(1)

Racers

(1)

Scooby-Doo

(1)

Serious Play

(5)

Speed Champions

(16)

Star Wars

(716)

Stranger Things

(1)

Technic

(64)

The Batman Movie

(70)

The LEGO Movie 2

(57)

The Lone Ranger

(1)

The Simpsons

(1)

Toy Story 4

(6)

UniKitty

(9)

WeDo

(7)

xtra

(9)

More
Less
Price
Under €5

(811)

Under €10

(1375)

Under €20

(2717)

Under €30

(3710)

Under €40

(3981)

Under €50

(4105)

Under €100

(4352)

Under €200

(4458)

Under €1000

(4530)

More
Less
Brand
LEGO

(2594)

LEGO Education

(113)

LEGOwear

(1635)

BRICKshop

(11)

Disney

(1)

Duracell

(6)

FaBiox

(4)

GalaxyArms

(10)

Hubelino

(17)

LIGHT STAX

(14)

Librero

(1)

SBRICK

(4)

Varta

(11)

ZURU MAYKA

(6)

Other manufacturers

(100)

More
Less
Age
from 0½ years

(11)

from 1 years

(9)

from 1½ years

(37)

from 2 years

(74)

from 2½ years

(1)

from 3 years

(159)

from 4 years

(962)

from 5 years

(595)

from 6 years

(865)

from 7 years

(413)

from 8 years

(324)

from 9 years

(178)

from 10 years

(253)

from 11 years

(110)

from 12 years

(104)

from 13 years

(1)

from 14 years

(11)

from 16 years

(34)

More
Less
Gender
Boy

(2003)

Girl

(664)

Boy/Girl

(896)
Special
Special day
Black Friday

(1)

Brith Day

(41)

Christmas

(43)

Easter

(11)

Fathers Day

(5)

Halloween

(13)

Marrige

(2)

Mothers Day

(5)

New Year

(2)

Sinterklaas

(1)

Summer Deals

(12)

Thanksgiving

(3)

Valentine

(9)

All Options
Hide Options
Discount
Discount: 90%

(3)

Discount: 80%

(44)

Discount: 70%

(11)

Discount: 67%

(1)

Discount: 60%

(7)

Discount: 51%

(1)

Discount: 50%

(286)

Discount: 40%

(561)

Discount: 30%

(153)

Discount: 29%

(1)

Discount: 25%

(86)

Discount: 20%

(286)

Discount: 17%

(1)

Discount: 15%

(154)

Discount: 10%

(43)

All Options
Hide Options
Reviews
5 stars

(1806)

4 stars

(421)

3 stars

(32)

2 stars

(5)

1 stars

(3)

All Options
Hide Options
Stock
Not available

(496)

In Stock

(4011)

Coming soon

(22)

Preorder

(9)

All Options
Hide Options
Year
2019

(496)

2018

(712)

2017

(710)

2016

(566)

2015

(471)

2014

(101)

2013

(206)

2012

(92)

2011

(64)

2010

(125)

2009

(50)

2008

(33)

2007

(9)

2006

(20)

2005

(3)

2004

(18)

2003

(6)

2002

(6)

2001

(5)

2000

(18)

1999

(19)

1998

(18)

1997

(12)

1996

(11)

1995

(8)

1994

(4)

1993

(11)

1992

(14)

1991

(3)

1990

(5)

1989

(3)

1988

(4)

1987

(10)

1986

(5)

1985

(21)

1984

(12)

1983

(4)

1982

(9)

1981

(2)

1980

(24)

1979

(13)

1978

(41)

1977

(17)

1976

(5)

1974

(1)

1973

(8)

1972

(5)

1971

(6)

1970

(4)

1967

(3)

1966

(1)

1964

(2)

1962

(25)

1961

(3)

1959

(3)

1958

(2)

1954

(6)

All Options
Hide Options

Monday, 17 June 2019 11:31 |

Last Updated on Monday, 17 June 2019 11:38 |

Written by H. Side
Vanaf nu te bestellen met 15% PRE-ORDER korting: LEGO Hidden Side!
Met LEGO Hidden Side gaan Parker en Jack – twee bloggers die op Newburry High School zitten – op jacht naar spoken die in Newbury ronddwalen. Door middel van hun mobiele telefoon kunnen ze de spoken vinden. Door puzzels op te lossen zijn ze vervolgens te vangen.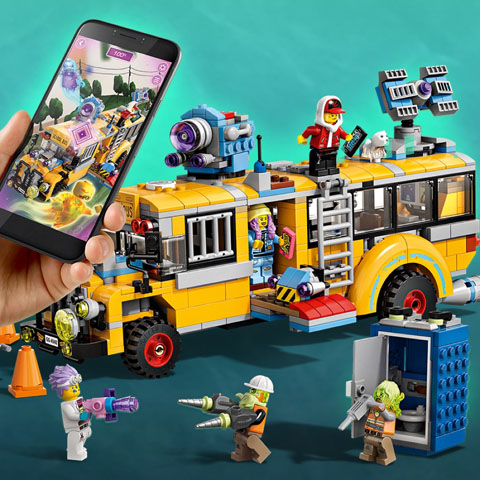 De set zitten vol functionaliteit, geheimen, speelmogelijkheden en het thema is voorzien van een spookachtig verhaal. Elk model heeft de mogelijkheid om zowel de normale versie als de spookvariant naar voren te laten komen. Het aanpassen van normaal naar spookachtig – en vice versa – is eenvoudig te realiseren.
Door het gebruik van AR (Augmented Reality), zal de set tot leven komen zodra je de app start en de camera erop richt. De app activeert op het scherm spoken, laat de set tot leven komen en onthult de verstopte en spookachtige wereld die achter de sets verscholen zit.
Doordat de sets zowel uit normale als spookachtige varianten bestaan, zal het speelplezier groot zijn. De app laat niet alleen de sets tot leven komen, maar kinderen – of volwassenen die dergelijk functies ook leuk vinden – kunnen ook spoken vangen, puzzels oplossen en de wereld tot leven laten komen. Het vangen van spoken werkt op een Pokemon Go!-achtige manier.
Bestel tijdig en voorkom teleurstelling, dan zorgen wij dat u de LEGO Hidden Side sets als één van de eerste in huis heeft.
Nieuwsgierig of ook jouw telefoon of tablet ondersteund wordt? Check it Works!