Product Filter
Category
Sets

(1435)

LEGO Parts

(594)

LEGO Clothing

(1783)

LEGO Books

(282)

LEGO Bags

(53)

Extras

(674)
LEGO Theme
Architecture

(23)

Bionicle

(10)

Boost

(3)

Brickheadz

(25)

City

(247)

Classic

(142)

Creator

(96)

DC Batman

(24)

DC Comics Super Heroes

(42)

DOTS

(18)

DUPLO

(177)

Disney Princess

(39)

Elves

(11)

Fantastic Beasts

(2)

Friends

(531)

Ghostbusters

(1)

Harry Potter

(28)

Hidden Side

(19)

Ideas

(17)

Juniors

(3)

Jurassic World

(44)

Legends of Chima

(1)

Marvel Avengers

(14)

Marvel Super Heroes

(36)

Mindstorms

(40)

Minecraft

(19)

Minifigures

(79)

Minions

(3)

Nexo Knights

(25)

Ninjago

(354)

Overwatch

(9)

Power Functions

(28)

Powered UP

(10)

Powerpuff Girls

(2)

Racers

(7)

Serious Play

(6)

Speed Champions

(19)

Spike

(10)

Star Wars

(741)

Stranger Things

(1)

Super Mario

(2)

Technic

(67)

Teenage Mutant Ninja Turtles

(3)

The Batman Movie

(56)

The LEGO Movie 2

(60)

The Lone Ranger

(1)

The Simpsons

(1)

Toy Story 4

(6)

Trolls

(9)

UniKitty

(10)

WeDo

(7)

xtra

(13)

More
Less
Price
Under €5

(735)

Under €10

(1361)

Under €20

(2911)

Under €30

(3904)

Under €40

(4228)

Under €50

(4347)

Under €100

(4603)

Under €200

(4735)

Under €1000

(4811)

More
Less
Brand
LEGO

(2747)

LEGO Education

(123)

LEGOwear

(1783)

BRICKshop

(11)

Disney

(1)

Duracell

(3)

FaBiox

(2)

GalaxyArms

(6)

Hubelino

(14)

LIGHT STAX

(8)

SBRICK

(4)

Varta

(11)

Other manufacturers

(104)

More
Less
Age
from 0½ years

(11)

from 1 years

(13)

from 1½ years

(39)

from 2 years

(87)

from 2½ years

(1)

from 3 years

(197)

from 4 years

(1002)

from 5 years

(573)

from 6 years

(966)

from 7 years

(465)

from 8 years

(365)

from 9 years

(209)

from 10 years

(272)

from 11 years

(108)

from 12 years

(99)

from 13 years

(1)

from 14 years

(9)

from 16 years

(44)

from 18 years

(5)

More
Less
Gender
Boy

(2178)

Girl

(681)

Boy/Girl

(1015)
Special
Special day
Black Friday

(3)

Brith Day

(44)

Christmas

(44)

Easter

(10)

Fathers Day

(5)

Halloween

(12)

Marrige

(3)

Mothers Day

(5)

New Year

(9)

Sinterklaas

(2)

Thanksgiving

(2)

Valentine

(8)

All Options
Hide Options
Discount
Discount: 90%

(2)

Discount: 80%

(14)

Discount: 70%

(4)

Discount: 60%

(1)

Discount: 51%

(2)

Discount: 50%

(236)

Discount: 40%

(453)

Discount: 38%

(1)

Discount: 30%

(46)

Discount: 25%

(66)

Discount: 20%

(250)

Discount: 17%

(1)

Discount: 15%

(191)

Discount: 10%

(46)

All Options
Hide Options
Reviews
5 stars

(2079)

4 stars

(458)

3 stars

(37)

2 stars

(8)

1 stars

(2)

All Options
Hide Options
Stock
Not available

(1549)

In Stock

(3193)

Coming soon

(67)

Preorder

(7)

All Options
Hide Options
Year
2020

(434)

2019

(748)

2018

(598)

2017

(540)

2016

(484)

2015

(440)

2014

(79)

2013

(197)

2012

(87)

2011

(55)

2010

(126)

2009

(48)

2008

(39)

2007

(14)

2006

(16)

2005

(4)

2004

(17)

2003

(6)

2002

(6)

2001

(5)

2000

(21)

1999

(15)

1998

(22)

1997

(11)

1996

(7)

1995

(11)

1994

(4)

1993

(9)

1992

(12)

1991

(4)

1990

(8)

1989

(4)

1988

(6)

1987

(11)

1986

(3)

1985

(26)

1984

(13)

1983

(4)

1982

(7)

1981

(1)

1980

(28)

1979

(15)

1978

(43)

1977

(17)

1976

(5)

1973

(9)

1972

(3)

1971

(6)

1970

(3)

1967

(4)

1966

(1)

1964

(7)

1962

(42)

1961

(4)

1959

(5)

1958

(1)

1954

(11)

All Options
Hide Options

Monday, 17 February 2014 02:39 |

Last Updated on Friday, 02 January 2015 11:43 |

Written by A. de Goeij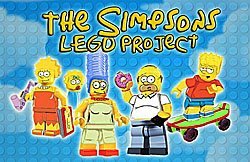 LOS ANGELES - Fans van The Simpsons kunnen zich opmaken voor een bijzondere aflevering. Fox gaat een aflevering van The Simpsons geheel in LEGO-blokjes uitvoeren.
De aflevering is in de Verenigde Staten te zien op 4 mei, zo bevestigde Fox tegenover Reuters, en gaat 'Brick Like Me' heten. Homer Simpson wordt op een dag wakker in zijn woonplaats Springfield, waar alles plotseling van LEGO is. Hij moet een manier vinden om te ontsnappen aan de plastic wereld.
The Simpsons gaan al weer hun 26e seizoen in. De maker hebben laten weten dat er binnenkort een belangrijk personage zal komen te overlijden. Onlangs kwam 'LEGO The Movie' uit. De film is een groot succes en bracht tot nu toe meer dan 50 miljoen euro in het laatje.
Binnekort verschijnt ook het Simpsons huis van LEGO en ook is de volgende serie minifiguren volledig in het teken van The Simpsons.