Product Filter
Category
Sets

(1223)

LEGO Parts

(1611)

LEGO Clothing

(1396)

LEGO Books

(236)

LEGO Bags

(57)

Extras

(662)
LEGO Theme
(2428)

ART

(12)

Architecture

(13)

Avatar

(9)

BricQ

(1)

Brick Sketches

(7)

Brickheadz

(24)

City

(314)

Classic

(336)

Creator

(62)

DC Batman

(270)

DC Super Heroes

(13)

DOTS

(61)

DUPLO

(91)

Dimensions

(2)

Disney

(54)

Fantastic Beasts

(1)

Friends

(150)

Harry Potter

(121)

House

(2)

Icons

(57)

Ideas

(32)

Indiana Jones

(3)

Jurassic World

(107)

LEGOLAND

(6)

Lord of the Rings

(1)

MARVEL

(89)

Mindstorms

(7)

Minecraft

(46)

Minifigures

(49)

Minions

(4)

Monkie Kid

(8)

Nexo Knights

(1)

Ninjago

(467)

Power Functions

(7)

Powered UP

(13)

SPIKE™ Prime

(4)

Serious Play

(4)

Speed Champions

(38)

Star Wars

(129)

Super Mario

(53)

Technic

(64)

The LEGO Movie 2

(7)

Vidiyo

(14)

WeDo

(2)

xtra

(3)

More
Less
Price
Under €5

(843)

Under €10

(1925)

Under €20

(3582)

Under €30

(4366)

Under €40

(4607)

Under €50

(4733)

Under €100

(4957)

Under €200

(5100)

Under €1000

(5179)

More
Less
Brand
LEGO

(3682)

LEGO Education

(17)

LEGOwear

(1395)

BRICKshop

(12)

Duracell

(5)

Hubelino

(15)

Librero

(2)

SBRICK

(1)

Varta

(11)

LEGO IKEA

(4)

Other manufacturers

(37)

More
Less
Age
from 1 years

(3)

from 1½ years

(55)

from 2 years

(86)

from 3 years

(263)

from 4 years

(2074)

from 5 years

(459)

from 6 years

(876)

from 7 years

(363)

from 8 years

(343)

from 9 years

(232)

from 10 years

(188)

from 11 years

(12)

from 12 years

(27)

from 14 years

(5)

from 15 years

(3)

from 16 years

(31)

from 18 years

(122)

More
Less
Gender
Boy

(1749)

Girl

(419)

Boy/Girl

(1329)
Special
Special day
Brith Day

(19)

Christmas

(51)

Easter

(11)

Halloween

(21)

Mothers Day

(12)

New Year

(9)

Valentine

(3)

All Options
Hide Options
Discount
Discount: 100%

(4)

Discount: 90%

(2)

Discount: 80%

(4)

Discount: 75%

(1)

Discount: 70%

(2)

Discount: 60%

(2)

Discount: 51%

(12)

Discount: 50%

(491)

Discount: 49%

(6)

Discount: 40%

(16)

Discount: 33%

(197)

Discount: 30%

(251)

Discount: 25%

(101)

Discount: 20%

(200)

Discount: 15%

(140)

Discount: 10%

(10)

All Options
Hide Options
Reviews
5 stars

(2635)

4 stars

(74)

3 stars

(6)

2 stars

(2)

1 stars

(1)

All Options
Hide Options
Stock
Not available

(501)

In Stock

(4667)

Coming soon

(18)

All Options
Hide Options
Year
2023

(427)

2022

(771)

2021

(1172)

2020

(575)

2019

(310)

2018

(185)

2017

(116)

2016

(91)

2015

(74)

2014

(33)

2013

(65)

2012

(58)

2011

(43)

2010

(142)

2009

(86)

2008

(61)

2007

(16)

2006

(34)

2005

(14)

2004

(53)

2003

(10)

2002

(18)

2001

(14)

2000

(25)

1999

(33)

1998

(18)

1997

(17)

1996

(22)

1995

(22)

1994

(7)

1993

(16)

1992

(15)

1991

(14)

1990

(20)

1989

(3)

1988

(7)

1987

(36)

1986

(5)

1985

(23)

1984

(33)

1983

(9)

1982

(5)

1981

(4)

1980

(52)

1979

(21)

1978

(50)

1977

(71)

1976

(35)

1973

(18)

1972

(30)

1971

(3)

1970

(8)

1967

(1)

1966

(3)

1964

(14)

1963

(25)

1962

(60)

1961

(41)

1959

(16)

1958

(2)

1957

(4)

1956

(2)

1954

(24)

All Options
Hide Options

Thursday, 16 June 2022 11:35 |

Last Updated on Friday, 17 June 2022 09:40 |

Written by André de Goey
LEGO has decided to chage the name of LEGO Creator Expert to LEGO Icons. New and old set will move to this new theme LEGO Icons.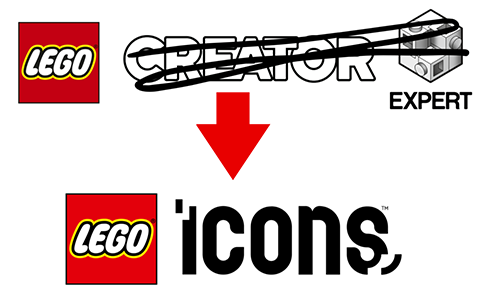 Designed for a challenging yet rewarding building experience, LEGO ICONS sets showcase impressive landmarks, modular buildings, classic vehicles, pop culture favorites and beautiful home décor sets. Find your passion and immerse yourself in builds that are worthy to be displayed.

Mega assortment


Wrapped with care


Quick shipment


Free products


Super Deals


Safe & Reliable


Click & Collect
very good. but please converse in English only, I don't have any other languages. Thank-you.
From:
Paul Garbutt Davies
Ordering is quite difficult. If you know what you want there is no where to put the name of the item and search
Vielen Dank für die schnelle Zusendung, ich freue mich sehr! Einfach super und somit gerne wieder :-)
***** Respect des délais, qualite de l emballage, site fiable et diversifié Tarifs très compétitifs
Amazing! Ordered Tuesday and arrived Saturday. Excellent price and excellent service! Thank you. Will use again!